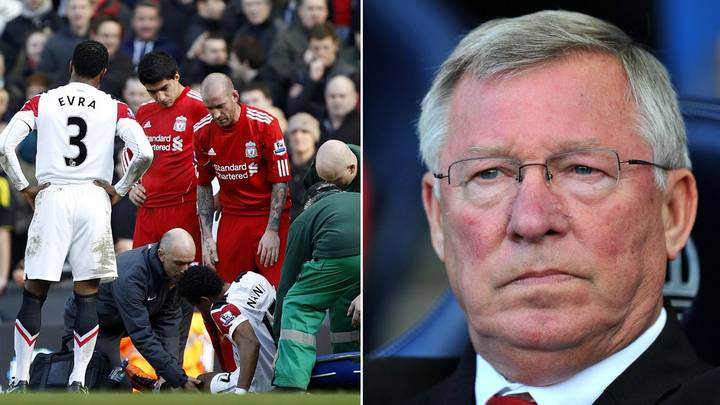 Former Manchester United left-back Patrice Evra has revealed Sir Alex Ferguson's brutal reaction when Nani cried at Anfield.
The Red Devils suffered a 7-0 defeat by Liverpool last weekend and left Anfield with their tails between their legs.
Bruno Fernandes has been met with a storm of criticism over his performance, with former Premier League striker Chris Sutton calling on Eric ten Hag to sack him as captain.
The Portugal international was also described as "embarrassed" by former United defender Gary Neville after he appeared to be asked to be substituted during the match.
Separately, the Daily Mail reported that some players in the camp were said to be "disturbed" by Fernandes' behaviour.
However, this is not the first time the player has lost the respect of his teammates at Anfield.
We were ready to kill him
Liverpool defender Jamie Carragher has been found guilty of making a terrible challenge on Nani in his side's 3-1 win over United in 2011.
The tackle resulted in an altercation between the two sides over what could have been a career ending injury. However, Nani's reaction to his teammate soon turned against him.
Remember Anfield when Nani was tackled by Jamie Carragher? Evra was interviewed by Rio Ferdinand in Five Podcasts. "I remember he was killed, he almost broke his leg.
"We started fighting with the Liverpool players, Steven Gerrard, then Schulsey [Paul Scholes] He arrived and saw Nani crying. He said, "Then shit, here we go."
Since then, Evra has lifted the lid on Sir Alex Ferguson's reaction, who, instead of consoling Nani, told him he hoped to break his legs.
"Then Ferguson gave him two weeks off because he said he needed to recover from that injury, because we were waiting for him, because in this team we didn't care about him, we were ready to kill him.
We were waiting for him because we laughed at him in this team, and we were ready to kill him. You know someone cried at Anfield… Even Ferguson, you remember when he said: 'I wish your legs were broken, I really wish your legs were broken'.
Ferguson always wanted to kill Nani when he was down, saying you can't be a United player and do that.
advertisement