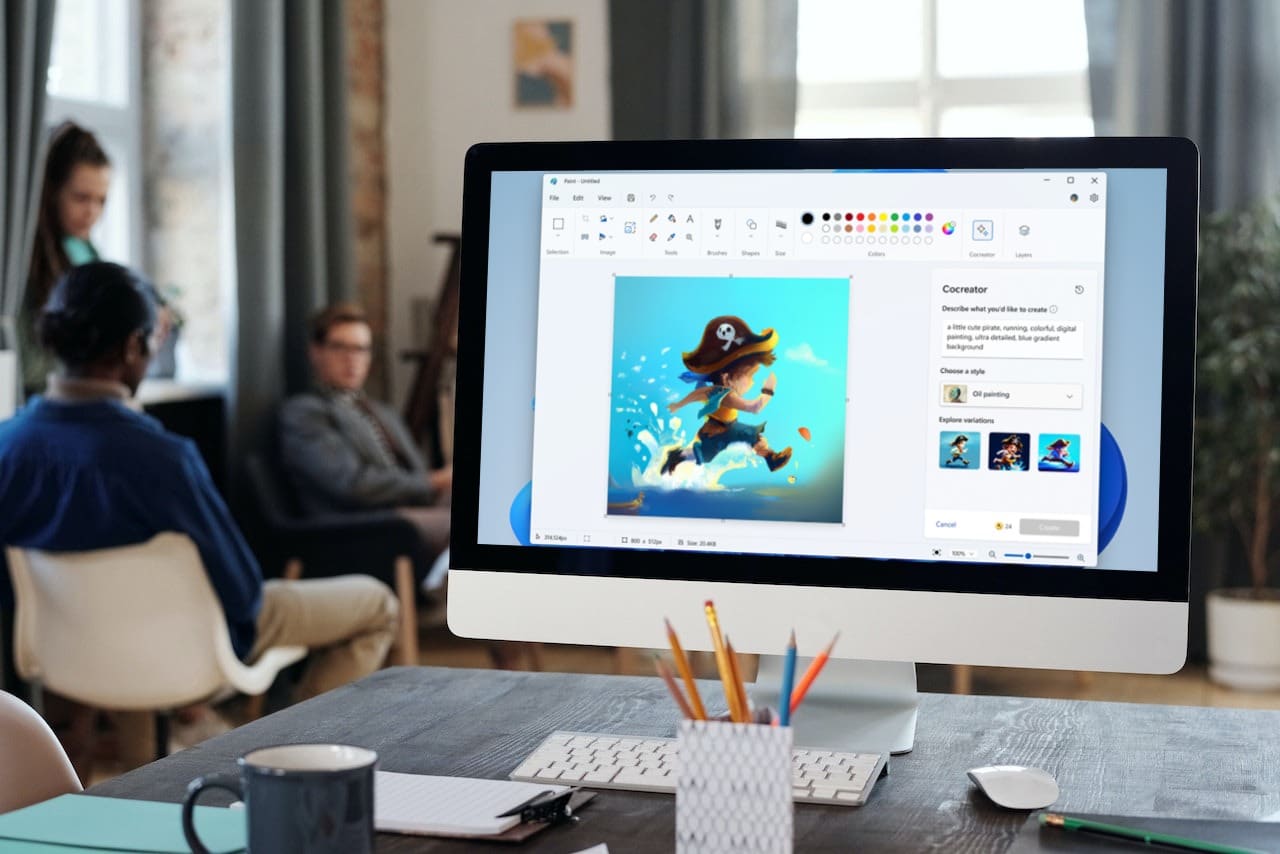 For decades, Microsoft Paint has been many people's tool of choice for their simple digital creations. Today, there's a revolution brewing: Microsoft is teaming up with AI "DALL-E" to redefine digital art.
Microsoft is exploring new creative frontiers by introducing Paint Cocreator, a tool powered by DALL-E AI, in Microsoft Paint for Windows 11. The company recently introduced this new feature in a blog post.
Microsoft Paint Cocreator, from text to artwork
Microsoft, always looking for innovation, is currently testing An amazing feature of Microsoft Paint on Windows 11. This newcomer, called "Paint Cocreator," was announced in a blog article, and it promises ingenuity. In fact, with a simple written description, the tool generates images, a feat made possible by OpenAI's DALL-E AI.
Moreover, it is possible Choose an artistic style. Then introduce Cocreator Three differences. To improve the work, it is possible to make adjustments, in particular adding layers, an innovation now available in Microsoft Paint.
Some challenges to overcome, but the potential is huge
DALL-E's performance in text interpretation raises questions, as its previous versions have shown flaws. Furthermore, it raises questions about potential sexist and racist preconceptions of artificial intelligence. But Microsoft claims it has Steps taken to avoid inappropriate contentAlthough the details are still unclear.
The good news? Soon, everyone will be able to experience this wonder. It will be Microsoft Paint Cocreator Accessible to all Windows 11 users In the near future. Currently, only Windows Insiders have access, with a waiting list. As a teaser, they receive 50 points, which allows them to create collages of images. However, this mechanism can develop, indicating the potential for future income.
At this moment, Only English speakers from certain countriesFrance and the United States, including, can benefit from this feat. But, be patient, and the list will definitely grow.
It's important to note that Microsoft Paint isn't the only one benefiting from these AI-driven innovations. Windows 11 sees the emergence of other impressive features. For example, the Photos app now offers Ability to blur the background and adjust its intensity, put the topic as it is distinguished. In addition, the Windows Copilot AI assistant makes users' lives easier by adjusting computer settings, launching applications, and more.