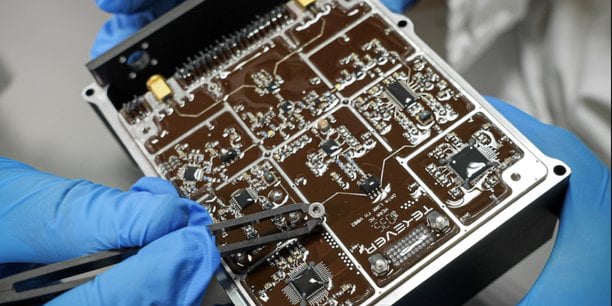 New announcement at the SpaceTech exhibition in Bremen, Germany. After it was revealed on Tuesday that the New Zealander had arrived in the Pink City Dawn Aerospace and its reusable spaceplane and environmental propulsion projects,The Portuguese company Tekever, in turn, unveils the opening of a space center in Toulouse.
Founded in 2001, Tekever has established itself in the drone manufacturing space for about ten years. After establishing a second British site in Wales in September for drone activity, the group is once again expanding its European presence, this time to keep its fledgling space arm off Earth.
Space: New Zealand's Dawn Aerospace settles in Toulouse to launch its reusable space plane
New contract for OHB
Today Tekever employs 400 people in its drone business. The Space Branch includes 40 employees distributed between the Porto Engineering and Lisbon Commercial Development sites.
" Our space activity is divided into two main branches. The first is based on advanced inter-satellite link (ISL) technology that has already secured contracts for science missions from the European Space Agency such as the Hera program (which aims to study the deflection potential of asteroids heading toward Earth, editor's note).

Tekever also announced at SpaceTech Expo a contract with OHB Italy to enable communications and data transfer between satellites and ground stations participating in the European Comet Interceptor mission which will fly over a comet. We are also participating in the Proba-3 mission which should validate various aspects of satellite formation flights. », Says Nadia Maarif, director of space activity at Takfir.
Beyond corporate tasks, this satellite link technology may be useful to commercial players. " With the advent of constellations, it is no longer a matter of managing one satellite, but of making several satellites work together ", Enlightened Space manager.
Radars designed for NewSpace
The other side of Tekever's space activity is based on the development of synthetic aperture radars (SAR) adapted to the needs of small satellites.
" There is already a supply of radars in Europe from space players, but very little in the small satellite category. We chose A NewSpace approach using off-the-shelf, space-ready components. And then, our big difference is that the image is generated directly at the satellite level, which allows us to send a much smaller volume of data back to Earth. », explains Nadia Maarif.
This engineer from Toulouse worked for almost ten years at CLS where she managed the marine surveillance activity. " Tekever wanted to settle in Toulouse for two reasons. First, for the ecosystem with its proximity to customers or suppliers. The second reason is the presence of talent, especially experienced profiles. », explains Nadia Maarif. The company is currently based in a co-working space downtown and relies on a workforce of ten people in one year in the Pink City.
Space: U-Space has launched construction of its nanosatellite factory in Toulouse