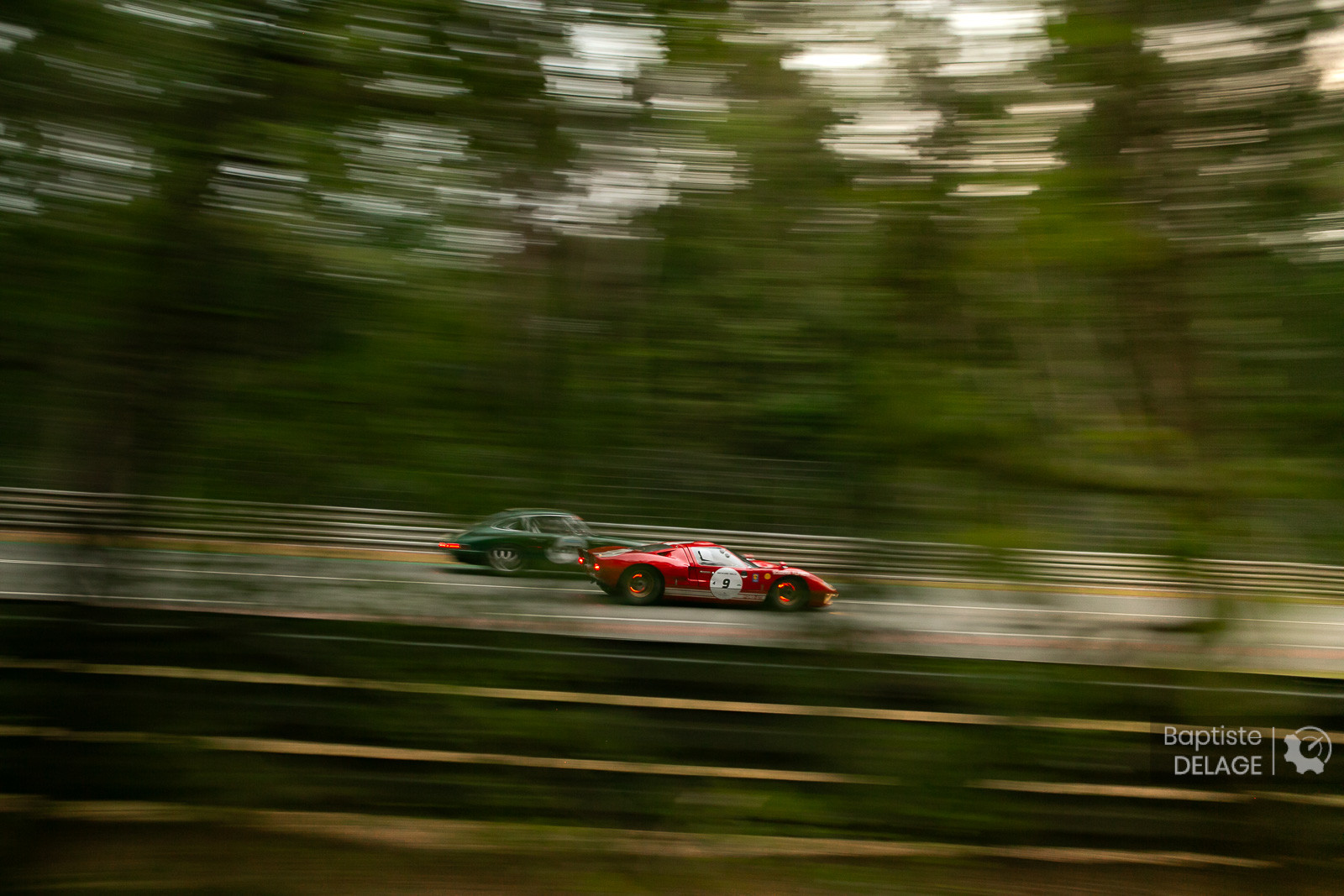 Between 1962 and 1965, Ferrari was unbeatable at the 24 Hours of Le Mans! However, Ford arrived in 1964 and Ferrari started to falter in 1965 even if the Italians pulled it off thanks to the Nart! This collection will make us relive this battle between two giants in motorsport.
Le Mans Classic
Qualifying tests
If in 1964 and 1965 at Le Mans the Ferraris triumphed over the Ford GT40, at the Le Mans Classic, the Americans are numerically superior and in control! At the wheel of the #74 Ford GT40, Portugal's Diogo Ferrao set the first reference time at 4'30" 665. But this time Swiss Christian Glasel beat it at 4'25" 475 on the #44 Ford GT40. As the session progressed, Emile Breittmayer gradually improved his times and finished with the third fastest time. The session is a bit short with a red flag.
Shelby Cobra benefited from the evening session! Olivier Gallant was fastest driving in the 59th position, ahead of the Ford GT40 of James Farley and Eric van de Poel, behind this duo we find another Shelby Cobra Daytona driven by Michel Lecourt and Raymond Narck.
Race 1
Pole, victory and fastest lap for German Christian Glasel who drove a group of 6 Ford GT40 cars! Portugal's Diogo Ferrao finished in 6'890 and Belgium's Emil Breitmeyer came in at 13'134. Sean and Maxwell Lynn completed the top five in this first race.
Race 2
In this second race, Christian Glasel had to settle the fastest lap at 4'29" 244. It was Diogo Ferrao who won with only 0″ 722 ahead of Emil Breitmeyer! The podium was completed by the Ford GT40 Roadster of Rui Macedo Silva / Joao Macedo. On his Shelby Cobra Daytona, Frenchman Olivier Gallant finished third.
Race 3
Diogo Ferrao won for the second time of the weekend and won the cumulative classification for the three races of the weekend. He won this race and the cumulative classification ahead of Belgium's Emil Breitmeyer, the gap is less than 10″ after 3 races! Sean Lane finished third in this race and in the cumulative classification. In the cumulative classification, Olivier Gallant's Shelby Cobra Daytona and Erwin France complete the top five.
The combined standings for the three races can be found below: