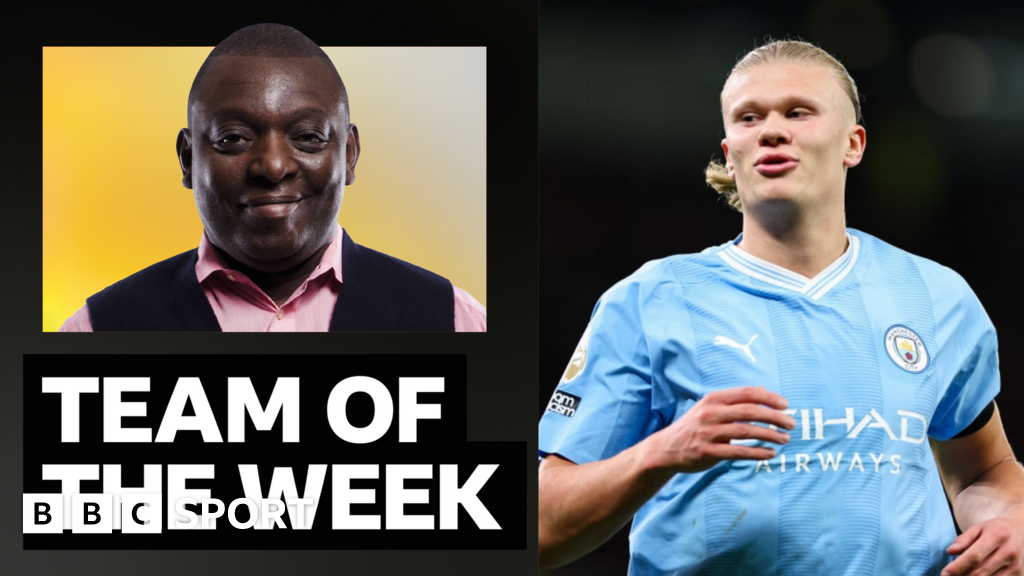 After each Premier League weekend, BBC football expert Garth Crooks gathers his thoughts and brings you his Team of the Week.
Here are this week's picks. As always, Garth also discusses important in-game talking points in Crooks of the Matter.
Ederson (Manchester City): Ederson's save from Scott McTominay's shot in the Manchester derby on Sunday was brilliant. The Manchester City goalkeeper did not have to lift a finger for long periods, such was City's control of the ball, but the moment the Brazilian was called upon, he produced something very special. The save was a game changer.
City have such long spells on the ball that they need an exceptional goalkeeper to maintain their focus and keep playing. What's more, Ederson is undoubtedly the best goalkeeper in the world when it comes to using the ball with his feet.
Kyle Walker (Manchester City): This player is experiencing the most amazing period in his career. He's clearly looking after himself as he has started every league game for City this season. I never thought he would become one of the best full-backs in the country – now he is one of the best full-backs in Europe.
His growth under Pep Guardiola has been amazing. The manager now turns the defender into a leader. His performance was solid as a rock against a Manchester United team that was completely outplayed. This is not just a completely different player under Guardiola, he is a completely different man.
Ethan Pinnock (Brentford): This time last year, and almost to this day, I saw Ethan Pinnock having an absolute howler away at Villa Park. He wasn't the only one, Brentford's entire defense collapsed within 45 minutes. The Bees lost 4-0 in the end, but I distinctly remember singing to Pinnock for special attention.
Since that defeat, the Jamaican international has been selected for my team on several occasions, has been an ever-present in Thomas Frank's side and been a rock in Brentford's backline.
His development as a regular centre-back has been nothing short of impressive, while his fine goal against Chelsea was only matched by his own clean sheet.
Meanwhile, Chelsea have been unable to get to the barn door and have lost any momentum they may have gained after their recent performances away to Fulham and Burnley.
Mickey van de Ven (Tottenham): This baby looks better with every look. It's still early days in his career and there's still a long way to go in the title race, but it looks like Micky van de Ven is the real deal. The Dutch international is quick and comfortable on the ball and loves to score goals.
He did not score in the Premier League leaders' 2-1 win over Crystal Palace on Friday, but no one was complaining about that. What Van de Ven brings to the field is a calm and steady influence in the Spurs backline and provides Cristian Romero a defensive partner that he can not only rely on, but help develop.
Jarrad Branthwaite (Everton): What a great way for Everton to throw away their title to former boss Bill Kenwright with a very professional performance away to West Ham. Everton defended brilliantly and deserved the points but the star of the show was their defender Jarrad Branthwaite.
This 21-year-old Englishman looks like he has come straight out of Everton's hard-working production line. It may not be Kevin Ratcliffe but it could be Mick Lyons.
Bernardo Silva (Manchester City): He was at the heart of Manchester City's third goal at Old Trafford on Sunday and performed a demolition job on Manchester United.
Kevin De Bruyne, arguably their best player, has been unavailable for some time due to injury, but that doesn't seem to bother Silva at all. The Portuguese international's performance was impressive against United, who were well and truly beaten that day.
Joao Palinha (Fulham): I was amazed that Palenha was still on the pitch against Brighton on Sunday after he elbowed Pascal Gross in the first half. I still can't make up my mind as to whether the contact he had with Gross was intentional or not.
The referee clearly gave the Fulham midfielder the benefit of the doubt as he left Gross helpless on the ground for some time.
It was also good for the Cottagers to have their best player still on the field. The Portuguese international's strike that earned Fulham a valuable away point was just top drawer. There's clearly a lot going for Pallina, and it's only a matter of time before the big clubs start knocking on Fulham's door again.
Philip Billing (Bournemouth): You could feel the relief at the Vitality Stadium at the end of the match when Bournemouth beat Burnley. These were three valuable points for coach Andoni Iraola.
His job was already hanging by a thread and another home defeat would have made his position at the club completely untenable. Fortunately for the manager, Philip Billing's 40-yard strike was as audacious as it was brilliant.
VAR's nearly six-minute delay to resolve the offside decision did not impress those in the stands at the Vitality Stadium. Chants of "this is embarrassing" spread around the ground. However, it was worse than that. It was messy. How did the best league in the world become burdened with such inconclusive technology?
Mohamed Salah (Liverpool): This was another great display from Salah. He seemed to be involved in every phase of the game and anything that looked even remotely meaningful against a Nottingham Forest side actually showed some grit. Liverpool, or should I say Salah, were very good.
This cannot be an easy time for the players who know that their teammate Luis Diaz is absent due to family problems in Colombia. Diogo Jota spoke in favor of the club by raising the number seven shirt bearing Diaz's name on the back after scoring. We wish Diaz good luck.
Erling Haaland (Manchester City): I said last week after his goal against Brighton that Haaland was in the scoring mood again. He got two more goals in the 3-1 win over Young Boys in the Champions League on Wednesday, and looked unplayable at times against Manchester United.
The Norway international is on fire at the moment and is back to his best. I'll be very interested to see who lifts the Ballon d'Or on Monday. Must be a favorite.
Eddie Nketiah (Arsenal): Having played two difficult away games in a week – against Chelsea in the Premier League and Sevilla in the Champions League – Arsenal were fortunate on Saturday to face a Sheffield United side devastated by injuries and lacking in know-how. Eddie Nketiah stepped in for the injured Gabriel Jesus and scored a wonderful hat-trick.
Last week I raised the issue of the Gunners demanding a decisive striker if they are serious about stealing the title from Manchester City. Nketiah's hat-trick didn't change my view, although his third goal was a brilliant strike. If he scores three goals against Liverpool, Manchester City or Tottenham, I may have to reconsider my position.
Scammers of this issue
Bournemouth fans chanted "this is embarrassing" after waiting nearly six minutes for the VAR to make a decision on whether Jay Rodriguez was offside when he put the ball past Burnley. That's the equivalent of watching two rounds of a heavyweight knockout contest.
However, all the technology in the world won't help officials when they can't identify batch from batch.
It appeared to me that Simon Hooper, who officiated Chelsea's match against Brentford on Saturday, was forced to over-rely on VAR during one of the first-half incidents. The push on Raheem Sterling by Brentford's Mads Roerslev was more of a barge than a push. Everyone on Earth saw it. But no penalty was awarded, and TV images suggested Hooper needed confirmation from the VAR to make that decision. Why? Shouldn't this be his calling?
The question I'm asking myself more and more these days is: Has VAR improved the overall quality of refereeing in the Premier League or has it made it worse? I'm afraid he may have made it worse.