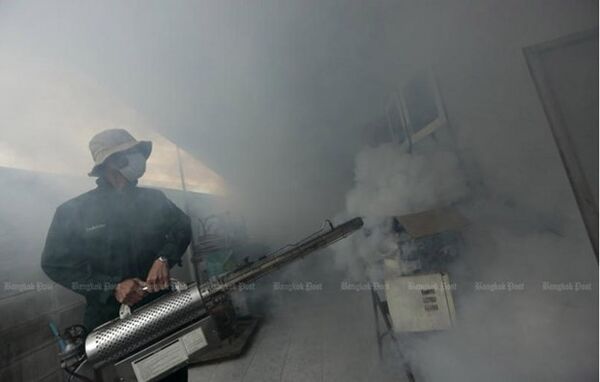 Thailand records a record high case of dengue
Thailand is seeing an alarming rise in dengue cases this year, with more than 19,000 infections reported, the highest number in three years.
>> Philippines: Dengue fever cases rise in seven months
>> Dengue: Thailand has established an emergency operations center
Spraying chemicals to prevent the spread of dengue mosquitoes.
Photo: bangkokpost.com/CVN
Deputy government spokeswoman Traisori Taizaranakule said on Monday (June 12) that the dengue virus has killed at least 15 people across the country since January and that the infection rate was 4.2 times higher than last year. On average, around 900 infections and one death are recorded each week, with most dengue cases recorded in the capital, Bangkok, and five other provinces.
The Ministry of Public Health expects more dengue patients during the rainy season between June and August, before the number of cases begins to decline in September.
To reduce the spread of this mosquito-borne disease, the concerned authorities are urging the public to maintain a clean environment and help eliminate mosquito breeding areas.
VNA/CVN