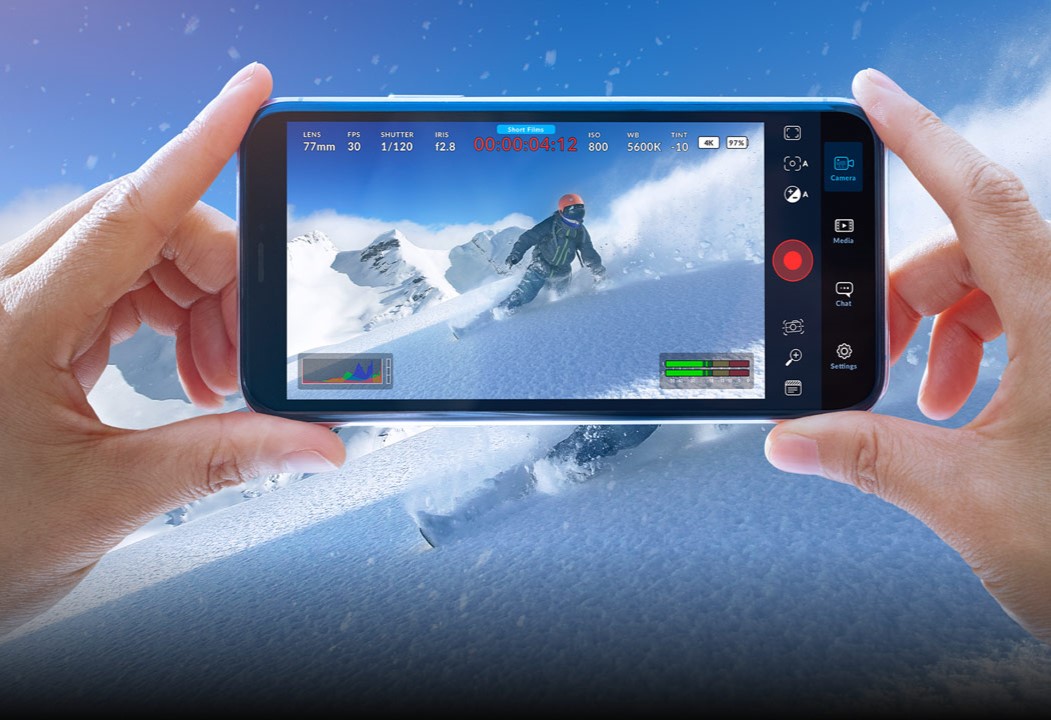 There are plenty of professional camera apps for iOS, like Filmic Pro, CinemaP3, etc., which help turn your iPhone into a full-fledged video recording device. Blackmagic Design, the company behind the popular editing suite Davinci Resolve, has launched a new professional video camera app that brings the interface and features of Blackmagic Cinema Camera to the iPhone for free.
Blackmagic Camera is a new professional iOS camera app that completely replicates the Blackmagic Camera interface. Users can adjust ISO sensitivity, shutter angle, frame rate, white balance, resolution, lens selection, etc. With the ability to record to multiple codecs including H.264, HEVC, Apple ProRes 422, 422 Proxy, 422 LT, 422 HQ, and 4444.
The app also supports direct uploads to Blackmagic Cloud, allowing studios to collaborate and access footage directly. It can also record directly into a Davinci Resolve timeline shared by multiple teams. Like the Cinema Camera interface, the app presents a menu with information about the shot, such as scene, reel, and number of shots.
Blackmagic Camera offers many features aimed at professional users. For example, the application automatically creates proxies for previews and also supports HDMI output without any interface icons, which is ideal for live streaming. Users can record four-channel audio directly using iPhone microphones in AAC, Linear PCM, and IEEE Float format.
The app supports external audio as well as VU and PPM measurements, but you may be limited to the Lightning port if you're using an older iPhone. iPhone 15 From the iPhone 15 series. Additionally, you can also view custom LUTs directly in the Blackmagic Camera app.
Regarding the iPhone 15 when used with the new one iPhone 15 Pro and iPhone 15 Pro MaxYour Blackmagic camera can use Apple LOG, which provides greater flexibility for color grading in post-production.
It's not clear if Blackmagic Camera will eventually make it to the Google Play Store for Android smartphones, as iOS offers many of the features used by apps of this type. However, apps like Filmic Pro are available on Android, although not all features work on all Android phones.
At first glance, Blackmagic Camera seems like a great option for those who plan to use their iPhone as their primary solution for shooting video or B-roll without having to worry about in-app purchases and recurring subscription fees.