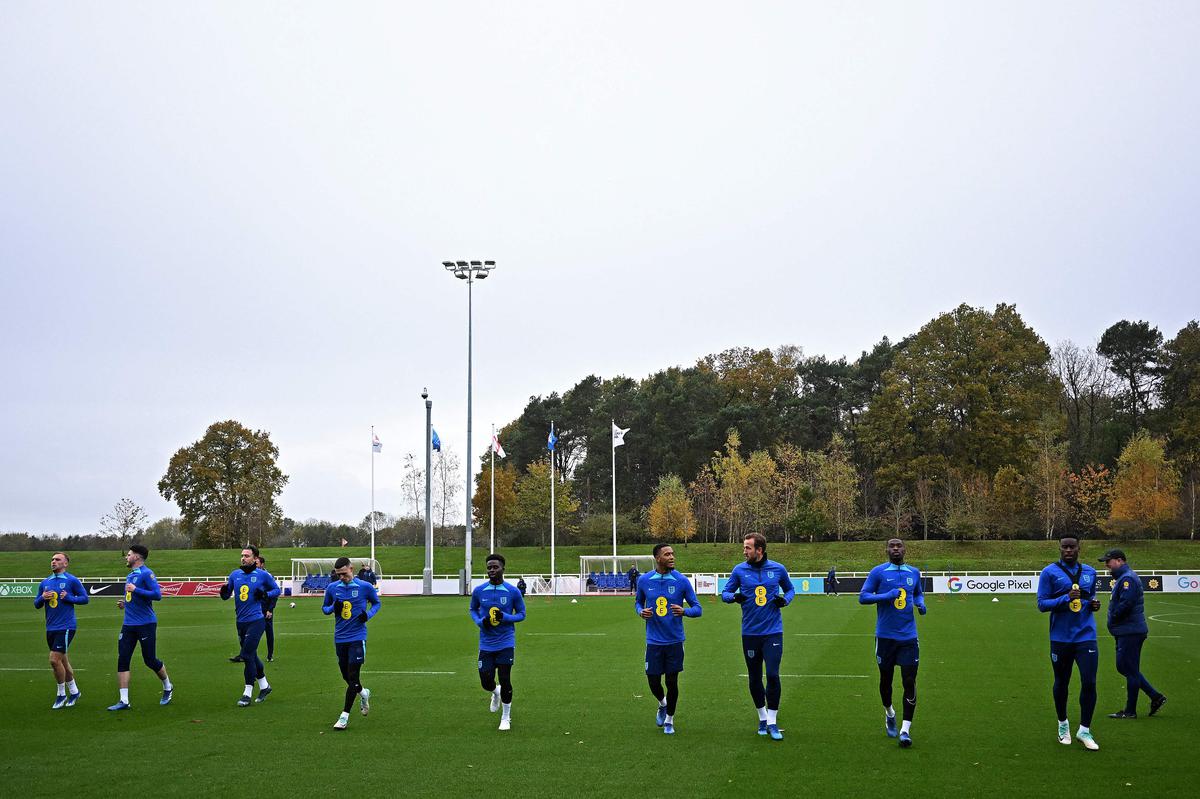 The final rounds of European Championship qualifying see defending champions Italy need a strong finish to book a place in the tournament, while Albania and Slovenia could pull off surprise victories in the group.
Romania are another unlikely team in control of their Euro 2024 destiny, although Israel still have an outside chance of securing outright progress from that group.
Slovenia tops Group H, ahead of Denmark, but could still be overtaken by a lower-ranked team – Kazakhstan.
Next week, 12 teams will qualify for the tournament hosted by Germany. Eight teams already qualified last month: France, England, Spain, Belgium, Portugal, Austria, Scotland and Turkey.
The Netherlands, Hungary and Serbia are best placed to confirm their qualification.
Three more teams will qualify from the 12-team playoffs in March.
Among the countries at risk of not qualifying directly are Croatia, which reached the final and semi-finals in the past two World Cups, and Italy, which failed to reach either of these tournaments.
Italy faces a difficult match against Ukraine on Monday, and is likely to finish second behind England in Group C.
Ukraine will host Italy in Germany – at the home of Bundesliga leaders Bayer Leverkusen – because it cannot play international matches at home for security reasons during Russia's military invasion. Russia has been banned from participating in the Euro 2024 qualifiers.
Italy is three points behind Ukraine but has a game in hand, and hosts North Macedonia on Friday, a match that could revive bad memories for the Italians. Italy's second successive failure to reach the World Cup came after losing at home to North Macedonia in the play-off semi-final in March 2022.
Beginners
Albania benefited from its strong performance at home, where it achieved three victories and did not concede any goals, to currently lead the group that includes the Czech Republic and Poland.
Albania, coached by former Brazilian, Arsenal and Barcelona left-back Sylvinho, needs a draw on Friday with Moldova to qualify. Albania concludes its matches on Monday at home against the Faroe Islands.
Poland, which fired veteran Portugal coach Fernando Santos after only a few months, needs a win over its visiting Czech Republic on Friday to maintain any chance of qualifying directly, but it seems that captain Robert Lewandowski's team is heading to the qualifiers.
Slovenia has not qualified for the European Championship since the 2000 edition, but it surpasses Denmark, which reached the semi-finals of the European Championship 2020, on goal difference before they meet in Copenhagen on Friday. Even if they lose, Slovenia will need just one point to qualify when they host Kazakhstan on Monday.
Neither Wales nor Croatia will be able to qualify from Group D, as Turkey has already secured one of the first two places.
Wales, which hosts Turkey next Tuesday, will likely need to win to qualify and send Croatia to the qualifiers. Wales achieved the tiebreaker in direct confrontations after defeating Croatia 2-1 last month.
Slovakia will join Portugal in Group J with a draw at home with Iceland on Thursday. Third-place Luxembourg is supposed to qualify for the qualifiers due to its results in the European Nations League.
Israel's demand
Israel has never qualified for the European Championship since becoming a full member of UEFA in 1994. It was already in a close three-way race with Romania and Switzerland in Group I before the war with Hamas led to the postponement of its two matches scheduled for October.
A new schedule of four matches in 10 days began on Sunday with a 1-0 loss to Kosovo, making third-placed Israel's "home" match on Wednesday against Switzerland crucial.
Israel will play this game in a small Hungarian village closely linked to the country's Prime Minister Viktor Orban. Group leader Romania visits Saturday.
The final round will be held on Tuesday, when Romania hosts Switzerland and Israel plays in Andorra.
___
AP Soccer: https://apnews.com/hub/soccer