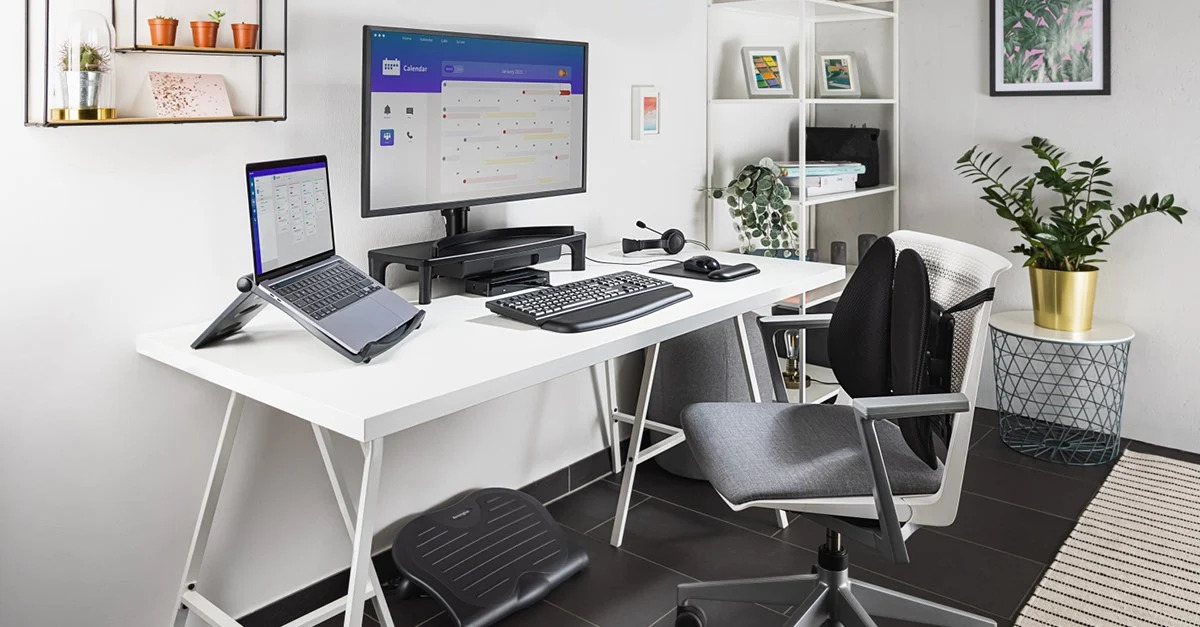 Companies – and individuals – spend a lot of money on what's in the machines in our offices. But Kensington, the peripheral company, offers instead a range of products that aim to make the very act of work easier, particularly by feeling more comfortable in this place where we spend so many hours in the day.
During a virtual presentation, a representative of the company, a specialist in ergonomics, put forward a set of things that allow Kensington, not only to reduce the risk of infection, but also, in some cases, to improve productivity.
The first of these is the vertical wireless mouse: the idea is simple, but the "normal" position for using the mouse is to lay your forearm flat on your desktop, which goes against the normal position of the hands, which hang over our bodies when we stand, and palms toward us.
The concept is the same here: the hand is in its "normal" position, which reduces the risk of injury, particularly in cases of carpal tunnel or pain at the end of the forearm, just below the wrist.
It is clear that Kensington is not the first the mouseObviously, different options suit different people. The idea, in general, is to avoid laying your forearm flat on our desk, and constantly rubbing it there. Unsurprisingly, Kensington also offers armrests, for both mouse and keyboard.
Speaking of keyboards, standard keyboard layouts also tend to impose an unnatural hand position. And if Kensington does indeed sell "normal" keyboards, it's also possible to get a ergonomic keyboard, where the keys are separated into two slightly raised sections to respect, again, the relatively natural orientation of the hands.
And in the opinion of the Kensington representative, if it really takes time to get used to it, once that time has passed, typing will be up to 12% more efficient than on a standard keyboard.
The company also sells a vertical mouse and ergonomic keyboard set.
Take, or rather keep his feet
Among the products that are as interesting as they are interesting, we find the rocking footstool; While this "traditional" Kensington footstool is somewhat familiar, at least in an office setting, it also takes up a lot of space.
The swing option is particularly slim and elegant: two feet with non-slip pads are attached to a solid metal bar that partially rotates on its base. So you can set foot in there without any problem, but you can also move all that gear without the thing looking like an expedition.
Always with the goal of making it easier to transport their computers, with the goal of working remotely or even working in a coffee shop, for example, Kensington offers two backpacks, including the Contour model, with a sharper frame. These two bags can hold laptops with screens up to 15.6 inches in diagonal.
And for those who want to do video conferencing, for example, or who have to juggle multiple audio inputs and outputs, the company offers a universal switch to combine three audio signals to a single output, among other things with Bluetooth connections.
Finally, there are also telescopic arms that can be used to hang one or more screens or even Video camera and ring light.