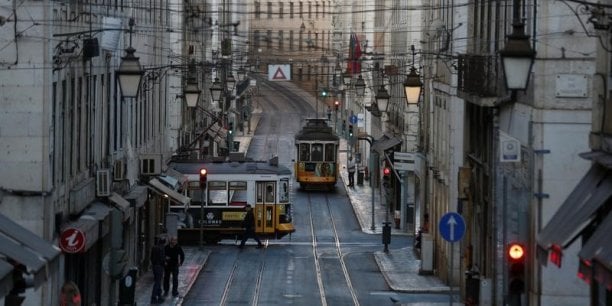 87% of Portuguese mortgages have variable interest rates, and nearly a million households face difficulties when they have to repay them.
Housing: Portugal ends "golden visas" for foreign investors
" It is time to take action to respond to what is undoubtedly the most serious problem facing Portuguese families today Finance Minister Fernando Medina made the announcement after the weekly government meeting.
The first of these measures is to allow for two years to limit the increase in the interest rate on monthly mortgage payments paid by households, to 70% of the reference rate set by the European Central Bank, which was raised on Thursday at its meeting. Highest level since 1999
Real estate loan: the usury rate exceeds the threshold of 5.5%
The Portuguese Minister of Finance announced that the Portuguese government also raised the ceiling on subsidized loans, a measure that could benefit about 200,000 families. " We have never seen such a rapid and sudden rise in interest rates ", he argued. Consequently, the amounts of monthly mortgage payments rose by about 50% on average between January 2022 and August 2023. For the last loans, they rose from 254 to 379 euros.
Also slow the rise in rental prices
Moreover, Parliament must vote on Friday on a package of measures announced by the government in February aimed at curbing the rise in rental prices, which characterizes the current housing crisis in Portugal. These provisions, which were objected to by conservative President Marcelo Rebelo de Sousa, specifically stipulate the end of " Golden visas » – Residence permits granted to wealthy foreign investors – or the obligation to rent vacant apartments for more than two years in urban centres.
Given the level of inflation in recent months, property owners can raise rents by about 7% starting next January, unless the government decides to limit this increase. This year, rent increases are capped at 2%. Parliamentary debates on the issue were briefly interrupted on Thursday by about two dozen pro-housing activists, who question the effectiveness of the government's measures and call for demonstrations in Lisbon on September 30.
Renewal of VAT in " Zero rate » on a range of food items
Moreover, in the face of inflation, the Portuguese government decided at the beginning of September to extend the application of VAT until December 31. Zero rate » A range of basic food items to help families cope with inflation. It covers a range of 46 products including vegetables, fruits, meat, fish and even dairy products. This measure was allowed to be implemented in April." big drop in prices "And mitigation Financial pressure on family budgets »Then the government confirmed in a press statement. In Portugal, inflation rebounded in August, mainly due to higher fuel prices, after nine consecutive months of slowdown. The rate of increase in prices reached 7.8% during the whole of last year, and the increase this year is supposed to be limited to 4% according to the government, or 5.8% according to the Bank of Portugal.
(With AFP)