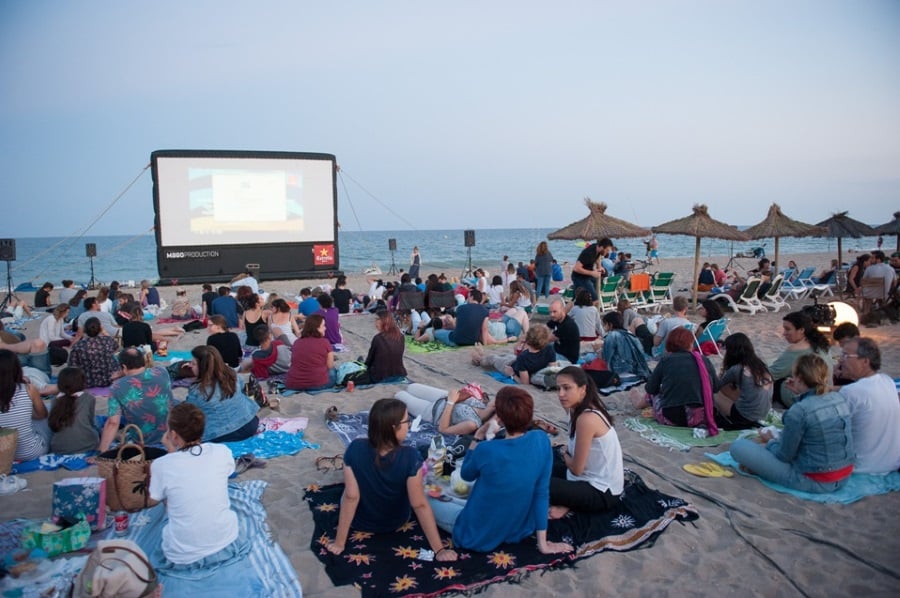 the Cine libre en la playa Back. From June 30 to August 10, the films will be shown outdoors on Sant Sebastià Beach in Barcelona.
Outdoor cinema is the date of summer. It is in a romantic setting, with your feet in the sand and with the balmy summer evenings that it will be possible again to enjoy watching movies on the big screen. The performances will take place on Sant Sebastià beach in Barcelona.
Cine libre en la playa, it is in the county city but not only. This year the festival extends to Tarragona via El Prat, Sitges, Palamos, Tossa de mar and Pollença. Performances will start between 9:30pm and 10pm, when the sun will set to give way to the darkness of the night.
Movies for everyone
Before each broadcast, a short film will be shown. Carefully selected at Nou Talent, Filmets Badalona Film Festival or Conofest feminist festival. In Barcelona, ​​the broadcast will be every Thursday from 6 July.
after the sun, An English film about summer holiday melancholy, the ball will open on Thursday 6 July (in English with Spanish subtitles).
will follow him Cinco LobitosThat wonders about roles in families. Spanish film that won an award at the Malaga Festival and will be shown on Thursday 13 July (in Spanish with Spanish subtitles for the hearing impaired).
On Thursday, July 20 Pequeno evil It will put the lives of three Colombian women into perspective (in Spanish with English subtitles).
The following week, a different audience was targeted. And for good reason, it will be the turn of the Portuguese animated film Los Demonios de Barro (Spanish with English subtitles).
On Thursday August 3, for the penultimate show, the Catalan film Alkarras It will tell the story of a peasant family who grow peaches (Catalan with English subtitles).
The film of the last cycle, on August 10, has yet to be announced, with good and simple reason that it has not yet been selected. The audience is invited to vote for their favorite movie from among a selection. Voting is open and happening here.