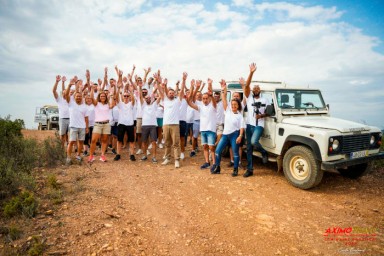 Last September, the only dual-skilled brand in real estate and business, AXIMOTRAVO, brought together part of its network in Portugal, for 3 days, for an annual seminar focusing primarily on relaxation and collective cohesion.
Aximotravo

The only network with an incomparable winning system!
Join a deep human network, rated as the best national "quality of service" brand since 2018 with a unique concept: real estate and business are finally united!
3 days of relaxation in Portugal at AXIMOTRAVO
While the rest of France went back to work and left the holidays, the sea and the sun behind, Some of the licensees of AXIMOTRAVO met in southern Portugal for an annual 3-day seminar 2022 devoted almost entirely to relaxation.
Ride a jeep, jet-ski, paddle, discover Portuguese cuisine, etc. : AXIMOTRAVO NETWORK members were able to meet, enjoy and exchange during these 3 days. A great way for new AXIMOTRAVO brokers to meet and introduce themselves to the rest of the Licensees.
The network president also took the opportunity to hand out trophies and medals to the most successful members.
Seminar fully funded by AXIMOTRAVO
One of the distinguishing features of this annual seminar for the year 2022 for the AXIMOTRAVO brand is that it was fully funded by the head of the network and presented to the licensees. And that is, to reward them for their continued work to make the brand work.
So if you want too Become a construction broker and real estate consultant With a brand with a unique concept in France that knows how to reward the members of its network, go to the AXIMOTRAVO brand sheet to find out more.