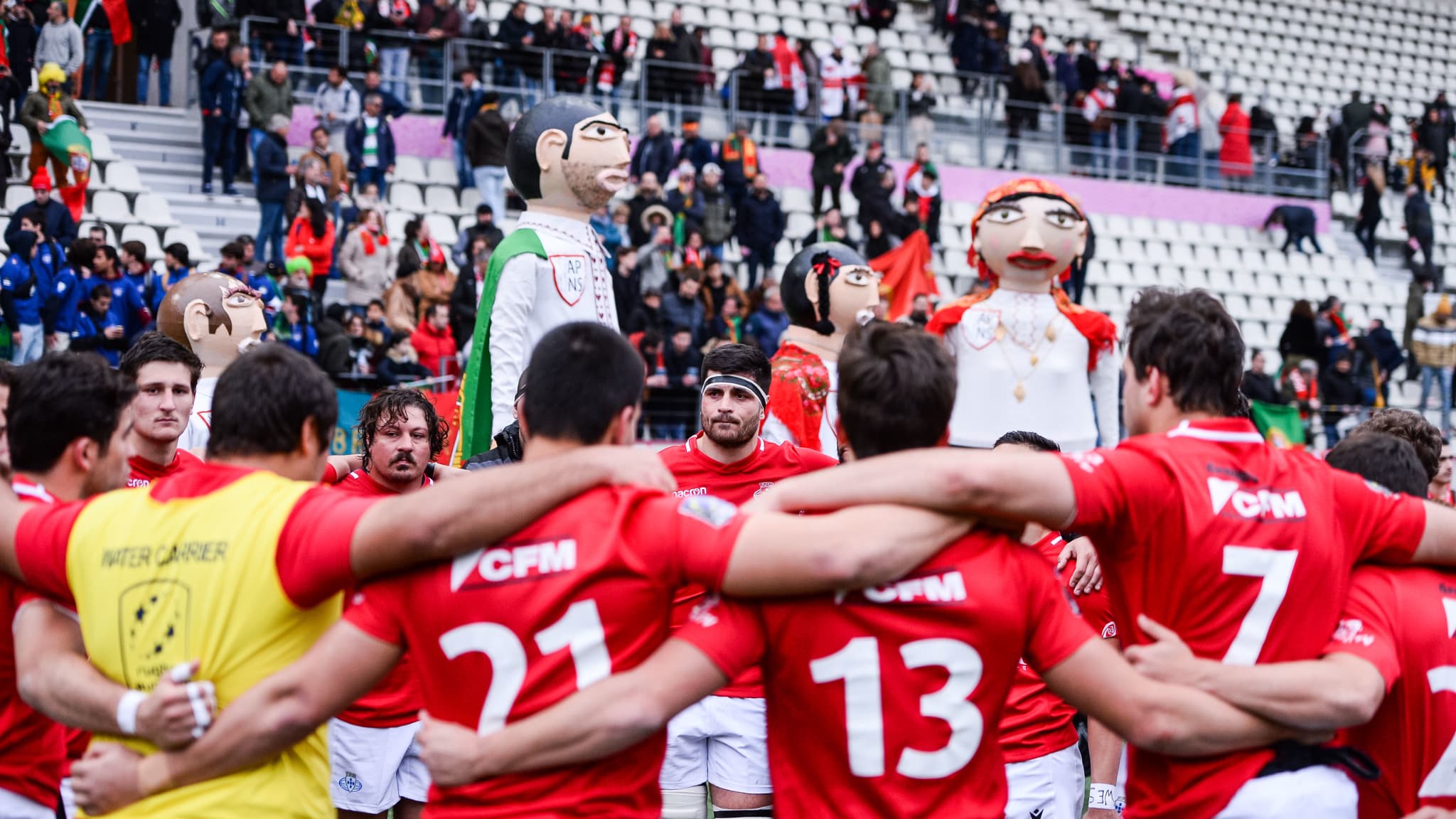 Portugal will participate in the Rugby World Cup for the second time. Next Saturday, Los Lobos (Wolves) will have a date with Wales on Saturday to enter the race. Ahead of this big encounter, RMC Sport spent an immersed day with the Lusitanian squad at their base camp in Perpignan.
The 33 players and the Portuguese coaching staff packed their bags in Perpignan in the Eastern Pyrenees. A small rugby country, this is only the second time in its history that Portugal has participated in a World Cup. Before their first match, Saturday against Wales, RMC Sport spent a full day with Los Lobos (Wolves).
At 9:20 a.m., at the Perpignan Sports Park, the bus in Portuguese colors arrives, protected by a full security apparatus: "We are not used to having four police cars accompanying us. Even at the hotel, there is : "We have a demining team, four men from GIGN and a gendarme protecting us. It's impressive." On the bus, Mike comes out first, a big megaphone in his hands. He knows the infrastructure in which the team trains well because he played for two seasons at USAP (Union Sportive Arlequins Perpignanais). It's almost a home World Cup for him. "It's special. I'm happy to be there. "I feel the enthusiasm of the Portuguese fans or even the US Soccer Federation."
From the amateur world to the World Cup
Everyone comes to training with a smile. Head to the locker rooms before taking to the field for back exercises and weight training on the front. On Court No. 2 of the Sports Park, the session is continuous and is supervised by Patrice Laguesquet, the former French player and coach of the Portuguese national team since 2019. On the edge of the field, he speaks with his staff in English and speaks in French. With a large portion of its players (some of them French-Portuguese). Meanwhile, in the gym, the music is blaring, and the players do a series of exercises: squats, chairs, bench press… all in a good mood, with a smile and a few dance steps here and there for some. .
However, the pressure of the opening match began to mount. As soon as the session ends, Joao Mira, the assistant coach, Manuel Cardoso Pinto, the 25-year-old winger, and Rafael Simões, 31-year-old, in the third row, arrive at a press conference. They are confronted by two Portuguese journalists and RMC Sport. "We are eager to start competing," the three say. Joao Mira above all "wants to test his players and see if they are able to play at this level." Because half of the rugby players on the team are amateurs. This is the case with Manuel. Aside from that, he is a sales manager and Rafael is a 3D designer: "Up to the top level, rugby was a hobby. But all the efforts we put in since we were young have been rewarded." Because for this World Cup, all the players in the team are employees of the Portuguese Rugby Union, which is a first and great step forward.
"Showing that Portugal has its place in world rugby"
At their hotel, Villa Duflot, a few minutes' drive from their training center, the atmosphere is very quiet. Everyone is in their rooms and resting. "When we have more time between sessions, we play ping-pong, play card games, go to the pool, it's a little summer camp," smiles Mike Tadger, wearing shorts, a T-shirt and bare feet by the pool. . It also gives us about ten minutes of interview without a break. It's time to talk at length about this World Cup, which is certainly the last major event of his career before his retirement. So, he clearly can't wait for it to start and enjoy the moment: "We want to show that Portugal has its place in world rugby, to show that we know how to play, to show everyone that we can fight with the top of the basket." This is only the second time that Portugal has participated in the World Cup, after 2007. At that time, the team suffered a heavy defeat against the All Blacks (108-13): "It would be a lie to say 'we'" "We are not afraid of "Receiving results like this. Fear keeps us moving forward in these moments. If we think that playing with desire will be enough, we are lying to ourselves."
Waking up from his nap to come testify in front of the RMC Sport microphone, Vincent Pinto, the 24-year-old winger, is extremely proud to wear the jersey of Portugal, his father's native country: "Until now we haven't really realized what we were preparing for. We were in our corner. But this weekend we watched all the matches on TV, and we saw all the fans in the stadiums. "The team knew it was going to be difficult."
"We dream of creating this feat but…"
Vincent Pinto, who plays for Colomiers in Pro D2 and was a world champion with the French U-20 national team, is one of the most experienced players in this selection: "For players who are not used to playing on full courts, there can be a 'we have to be Clumsy. Therefore, we, experienced players, have to bear the pressure so that others can play freely."
Los Lobos will play in its group with Wales, Australia, Fiji and Georgia. Opponents are stronger than them: "We want to create this feat, we dream about it. But between dream and reality, there is a whole world. We will see, but we will not pressure ourselves with results. The most important thing is that our team shows its talent, shows our enthusiasm for the game and has the support of the public," he says. Coach Patrice Laguesquet. He has been at the helm of this team since 2019 and being in this World Championship is already a great achievement for Portuguese rugby: "It is an acknowledgment of the work done and shows the quality of Portuguese coaching. I hope there will be a starting point that will allow the federation to professionalize this sport, and will also attract more people." .
In its history, the national team has not won a single World Cup match. It is clear that the players want to make a good impression this year. "A great World Cup means winning three matches, going to the quarter-finals at the Velodrome because I'm a Marseille fan and I can die in peace," Mike Tudger said with a laugh. "And most importantly, our biggest dream is to win a match and do well." Vincent Pinto continues: "For me, it will be like trying to score a goal or more, play good matches, give a good image for Portugal collectively, and make the young people want to play." Before going out for a video session to prepare for the first match, Patrice Laguesque reminds, "The reality on the ground is "He is the one who will speak."