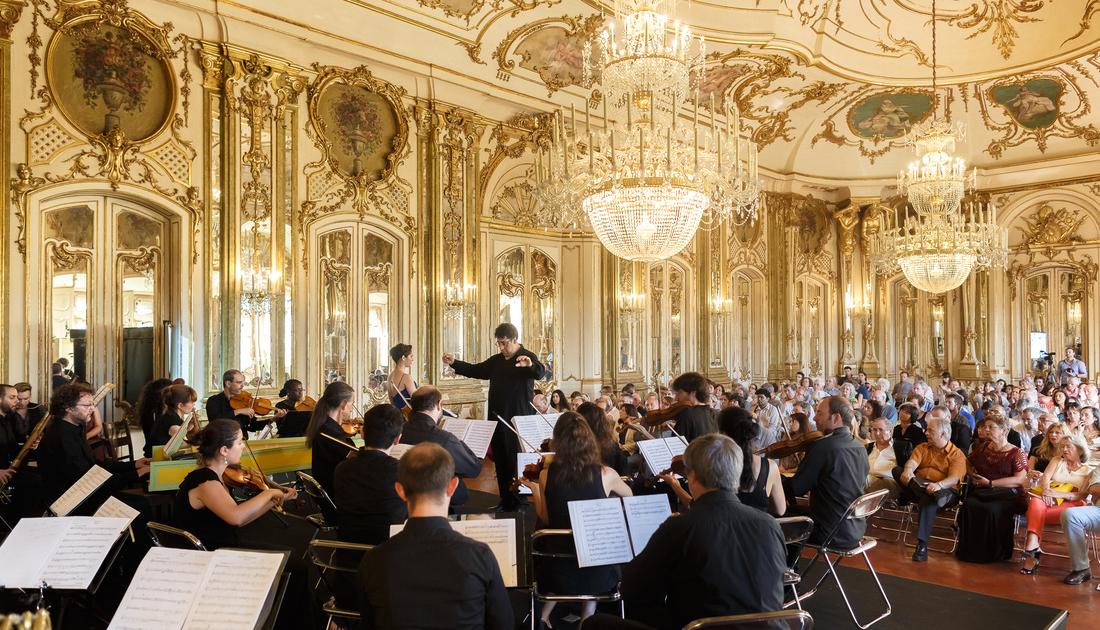 Violinist Massimo Mazzeo created a group of early music in Lisbon called Divino Sospero.
"Let's go back to the past, that would be clear progress.", was written by Giuseppe Verdi in 1871. It is a quote that is particularly cherished by his compatriot Massimo Mazzeo. Just over twenty years ago, this Venice-trained violinist decided to leave behind his life as a musician in the best Italian orchestras, to travel across Europe… and in Lisbon he chose to leave his luggage, to found his own group of ancient music: Divino Sospiro. "I got here by chance and fell in love with this country and its heritage."He explains.
An architectural heritage, but also a musical heritage of a hitherto unexpected richness, which it strives to revive with great rigor, thanks to its collection. Watch their latest album: Abel's deathI posted it sitting down. The world's first recording of this sacred oratorio is by composer Pedro Antonio Avondano, a major figure in Portuguese music from the 1740s to 1780, and whose works were lost in the 1755 earthquake.
Fine writing (particularly in the orchestration of its tunes) and powerful theatricality. This piece has as much to do with the emerging classicism as it does with the last lights of the Baroque, and is performed by an orchestra of rare precision, as well as a first-rate vocal cast (Raquel Camarinha as Abel, Ana Vieira Leit as Caine, and countertenor Filippo Minicchia in the particularly gifted role of Angel).
Read alsoGrémio Literário, Cercle Eça de Queiroz… In Lisbon, literary clubs perpetuate Chiado's cultural advocacy
"This response is the result of fifteen years of work."", explains Massimo Mazzeo. The work was made possible thanks to the Center for Musical Studies founded by Divino Sospiro, resident of the Belém Cultural Centre, about ten years ago in order to rediscover Portuguese musical manuscripts and publish the compositions or critical editions necessary for their interpretation. "When I arrived in Portugal, there were very few early bands here, and those bands struggled bravely to try and bring this repertoire into existence, but they were not organized enough to allow this heritage to shine."Confirms.
The place you deserve
But Massimo Mazzeo is convinced of this: "This repertoire is not only of interest to the Portuguese. He had a lot to teach us about the musical Europe of that time and about the connections that existed between different countries. Not just those coming from the Iberian Peninsula or even the arc of the Mediterranean. Portugal was a very powerful country at that." time, and will remain so even after the earthquake.From the Portuguese polyphonic school of the sixteenth centuryH And the seventeenthH centuries, which gradually freed itself from the influence of Palestrina, until the end of the XVIIIHTherefore, there is a whole section of repertoire that forms part of the heritage of the whole of Europe, and which has yet to be completely rediscovered. »
Among her next major projects is the rehabilitation of the music of João de Sousa Carvalho, one of the leading composers of the second half of the eighteenth century.H century in Portugal, whose style is close to Haydn "It clearly deserves public attention."
However, if Divino founded Sospiro, it was not only to explore early Portuguese music, but to serve all European Baroque, Classical and Renaissance music. "Only by achieving international recognition as a Baroque ensemble in its own right, and not just under the prism of exoticism, will we allow the Portuguese Baroque repertory to regain the place it deserves at the heart of the great European repertoire.Supposedly.
"The reference is very rare"
He also viewed his collection as a response to the large Baroque ensembles found elsewhere in the world, which, he said, did not adequately reflect this European dimension in their sound. "The Royal Chapel of John V, at the beginning of the eighteenth centuryH Last century, it had at least 90% foreign musicians, He remembers. It was his wife, Archduchess Marie-Anne of Austria, who imported the tradition of ceremonial court music at this time. At the same time, opera appeared in Portugal. »
Thus, according to him, Lisbon has its place on the map of the great European capitals of Baroque music. Especially that "The landscape has changed a lot over the past 20 years."as evidenced by the development of other ensembles, such as Os Musicos do Tejo ("The Musicians of the Tagus"), launched in 2005 and directed by Marcos Magalhães – trained, among others at the CNSM in Paris, by Christophe Rousset and Kenneth Weiss.
Read alsoIn search of Lisbon, which survived the great earthquake
however, "Baroque repertoire is still very rare in the programming of our traditional institutions and concert halls."Massimo Mazzeo denounces. To enable the City of Seven Hills to regain its position as the European Baroque capital, the conductor now dreams of providing it with a season of Baroque music, which will be deployed around several major milestones such as Lent, the end of the year or in the summer, in some of its most beautiful heritage venues, some of which still exist. Not much known to the public, both in Lisbon and foreigners.
From the Kardeya Monastery to the Bemposta Palace, passing through the Academy of Sciences. A project that may become a reality next spring. "Whether they are tourists, who are always happy to discover places they cannot always reach, foreigners who live in Lisbon and who cherish this heritage, or Lisbon residents themselves, who sometimes do not realize that they are living next door for a treasure, it is clear that there will be an audience for the season." Of this size, as we find in all major cities in Europe.He concludes.