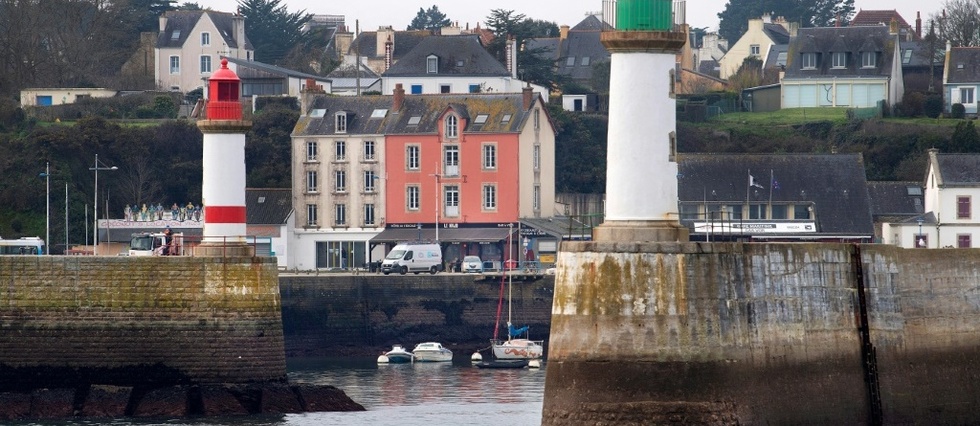 DrEucalyptus trees rise between the pines. A symbol of their native land, these trees were grown by the first Portuguese who arrived on the island of Groix 60 years ago, such a community represents 10% of the island's population.
Today, more than 200 Grocellones, out of a total population of 2,200, come from Portugal, making Cayo the land of their heart.
In a bistro, Alice da Silva switches effortlessly between French and Portuguese.
Originally from Vila Nova de Gaia, opposite Porto, she arrived in Groix in 1972 with her parents and brother Victor after a walking trip to Brittany.
"We arrived here on Monday," says the 50-year-old. "On Tuesday, I was sent to school, and on Wednesday, my father started work. We were amazed by the island, it was paradise here."
Dam construction
The family came to join the grandfather who arrived on the island in the sixties of the last century to escape the poverty that was afflicting Portugal and then the four-year compulsory military service imposed by the Salazar dictatorship, during the colonial wars, as happened in Angola.
He was part of a group of 16 Portuguese who fled the country illegally and disembarked at Gruix, a 3-by-8-kilometre plot of land, to join a dam construction site on the island, which was still devoid of water. Running water.
For Victor, "We must never forget that our grandfathers and fathers are immigrants. They had incredible courage to arrive in France with absolutely nothing."
The brothers and cousins ​​Da Silva, Teixeira, Rodrigues… constitute the first Portuguese diaspora on the island.
"When they arrived, they were without feathers," says Jean-Paul. "We housed them, prepared food for them, washed their clothes… Since they were very religious, like the islanders and Bretons, everything was accepted immediately." Legoff, Groisillon for generations.
Once the dam is built, the Portuguese stay: between purifying the water and building new housing complexes, there is no shortage of work.
Some marry Groisillnnes, set up their own construction companies and rent family members from the country.
"First one or two people came, then they attracted their wives, sisters, cousins, brothers…", sums up the island's mayor, Dominique Yvon.
"Today, a large number of them are business leaders and are heavily involved in the local economy. Many of them have acquired French citizenship: they have been completely absorbed into Grozellon."
"Home is here"
Between two stone houses flanked by dark blue shutters stands a sign reading "Da Silva, Father and Son," one of the island's two main construction companies with Teixeira Construction each employing about 15 workers.
Paulo Mendonça, a former truck driver from Porto, arrived in 2005 to work in construction.
He is part of this new wave of Portuguese expats who then founded his own company, 'Paulo Mécanique', and became 'the person without whom all the cars in Groix would break down', according to his friend Jean-Paul LeGoff. .
Since then, the brown-bearded man no longer sees himself living anywhere else: "It is France that has given me the most, and for that I will always be grateful."
His son, Edward, attends school on the island, which has 28 students. If it feels Portuguese, French or Grocellon? "During a football match, I'm representing Portugal. But at home, it's here, in Groix."
It is impossible to choose for Alice da Silva: "When I am in Groix, I have the impression that I am Portuguese, and in Portugal, I feel that I am French: I feel doubly foreign."
But one thing is certain, every time she leaves the island, a force like a magnet draws her into the midst of this wild landscape of heather and gorse.
"The stone is like someone from my family." For Alice, family "is precious."
02/27/2023 05:56:41 PM – Ile de Gruix (Morbihan) (France) (AFP) – © 2023 AFP
Get all the news directly in your email inbox!
From Monday to Friday, greet every morning
Most news:
Politics, economics, society, sports…
com. dmp