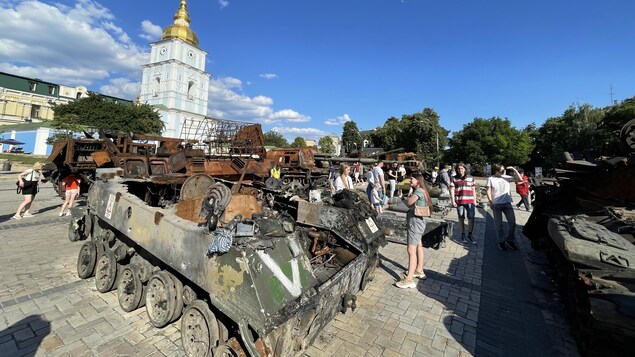 The Ukrainian army laid the wreckage of Russian tanks, trucks, cannons and missiles there, and the artillery of the whole country destroyed them.
Crowned in front of the Baroque bell tower not far from Saint Sophia Cathedral, this Russian military remnant is charred, rusty, and in poor condition. However, hundreds of Ukrainians, young and old, come every day to watch them.
Many are those who handle cannons and who enjoy climbing on the tower of tanks in order to have their picture taken as liberators of Ukraine.
Alexander, now based in Kyiv but originally from Donetsk in the Donbass, says the wrecks bring back bad memories: It's a little scary, because for me it's the second time the Russians have wreaked havoc in my area. Already under progressive Russian partial control since the annexation of Crimea in 2014, Donbass, in eastern Ukraine, has been under Moscow's conquest for several months.
Some of the charred tanks and trucks also smell of toxic chemicals, because these vehicles sitting in this quiet square may not have been cleared.
This does not prevent children from playing with guns, opening truck doors, or even climbing on debris.
Alexander feels that this is not the place for children, and they prefer to go to the parks to have fun. Moreover, it is believed, It inculcates in their minds the idea of ​​permanent war from an early age.
Alexandra, his wife, however, believes it is important for the younger ones to know their history. They should know the truth of this barbaric waras you say.
This unique attraction also evokes among some citizens the impression of the victory of Ukraine. It looks like trophies. I am ambivalent about this way of showing the effects of the war on the Russiansadmits Sergey, a 30-year-old resident of Kyiv.
Mixed feeling, first because other people died in these tanks and in these trucks; Then, above all, because the war is not yet over. Ukraine may claim victory very soondo you think.
It doesn't matter: The days go by and they look the same, and the crowd is right there.