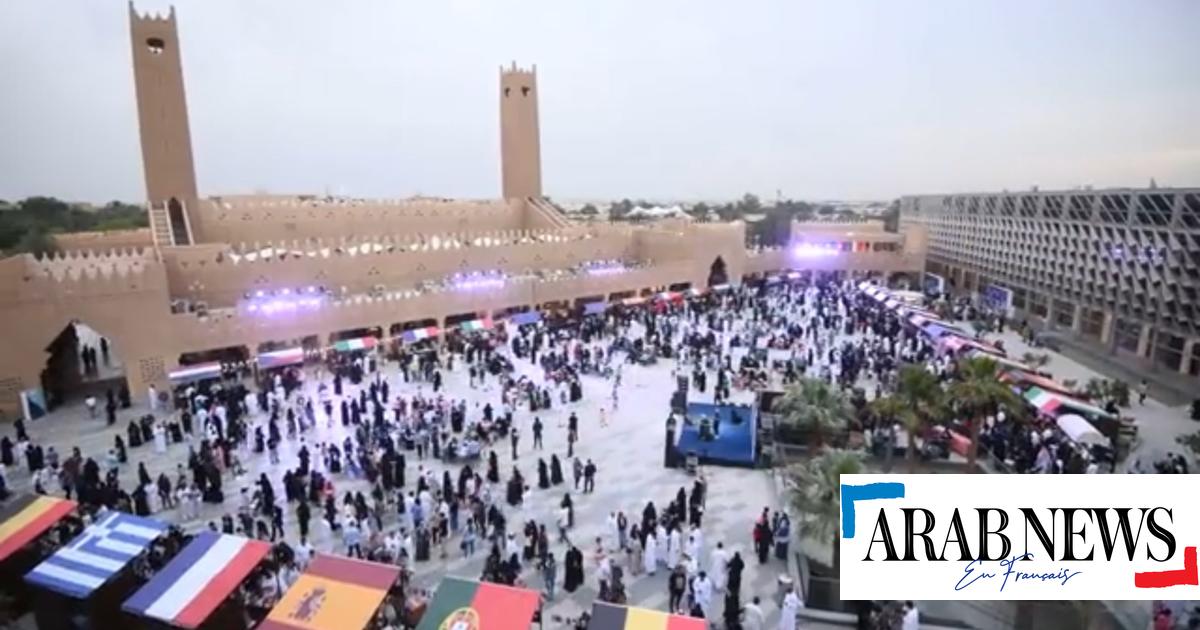 RIYADH: The delegation of the European Union in Riyadh, in cooperation with the embassies of the member states of the European Union, the Saudi Authority for Culinary Arts and the Diplomatic Quarter in Riyadh, is organizing, for the first time, the European Festival of Culinary Arts in the Kingdom of Saudi Arabia on March 16. 17 at Place Kindy, from 4 p.m. 11 p.m
The festival was inaugurated by Mr. Jap Ora, Chargé d'Affairs at the European Union Embassy in Riyadh. During his speech, Mr. Ora firstly expressed his great pleasure in organizing this unique event that brings together many European countries present in the Kingdom of Saudi Arabia to present and share their culinary traditions with their Saudi friends.
He also expressed his gratitude to all partners, including the Saudi Commission for Culinary Arts, especially Mrs. Mayada Badr and her team for the generous support of this initiative and for making the event a Saudi element, which is the Saudi Coffee, as well as the Saudi Chefs Association.
Without forgetting the presence of loyal partners, including the Hilton Hotel, the Intercontinental Hotel, the Radisson Blu Hotel, the Comptoir Lounge, the Dolce Razura and many others who served dishes prepared by their chefs and offered tastings.
The idea of ​​this festival was born out of the mutual love between Europeans and Saudis for good food, as well as our desire to highlight the diversity and quality of European food products, and to share the richness and refinement of European cuisine served in the Kingdom of Saudi Arabia. Mr. Ora said into an Arab News microphone in French.
He added, "Nations share a culinary culture with each other. Those who come to Saudi Arabia from abroad admire Saudi culinary traditions and your hospitality. We invite you tonight to be a traveler visiting Europe, to experience the richness of European cuisine."
A flavors tour of Europe
The countries participating in this festival offered visitors a variety of culinary specialties, European dishes, sandwiches, pastries, traditional cakes of all kinds, chocolates, sweets and drinks…
Belgium has delighted its visitors with delicate Liège waffles and light caramels.
The Czech Republic, for its part, suggested through Abbey BakeryAnd The best cronuts in Prague. Denmark did not fail to offer juices and cakes with dried fruits. Holland prepared Dutch pancakes for festival visitors which were a huge hit with the kids.
France is strongly represented by the unmissable restaurant in Bruno who offered visitors risottos, paws and pizzas, very fresh lemonade made from cucumber, lemon and elderberry syrup which is somewhat similar to lychee in taste and is known for its medicinal properties.
The main French bakeries were present at this festival. Let us mention Grenier à pain, Vie Claire, Fareen, Eric Kayser with croissants stuffed with frangipane or pistachio cream, savory croissants, madeleines, quiche, brioche, meringue and macaroons.
Commercial RecordHpe House has been a real hit with young children but also with adults, happy and patient in line, just to have fun and have fun in a family festive atmosphere with universal colors and aromas. It is and will remain in the memory of visitors a pleasant journey through cheerful and friendly Europe.
Italy was strongly and exclusively represented by the Eataly suite, which offered constant travelers various specialties, lasagna, cannelloni, calabria, margherita and unbeatable gelato. With different flavors of ice cream, it brought the flavors and colors of the Mediterranean to the middle of Place Kindy.
Azura Tour De España, a Spanish pavilion that conquered the taste buds of visitors through Paella, those tourists who had to wait in a rather long line, to tell the truth, but that did not discourage our tasters at all. Besides, everyone said to themselves: "Spain is here. Let's take advantage!" Halal wine and beer aroused the curiosity of many visitors.
Spain entertained the amazing audience as the flamenco band performed a set of Spanish songs. The warm voice of the singer and admiration in front of the graceful gestures executed by the dancer so elegantly invaded the atmosphere of the festival.
Portugal was represented by the Delta Café, which served lotus cakes in the shape of domes and the famous Portuguese music collection manata Made up of Portuguese friends who met in Saudi Arabia. Al-Manata presented a group of Portuguese melodies.
Chefs competition Saudi side
On the sidelines of this event, the Saudi Chefs Association organized a competition that was presented by Mr. Yasser Gad, its president, againstA culinary hospitality development consultant told Arab News, "This is a two-day competition sponsored by Souq Tamimi and Qasr Al-Awani. This includes Two categories, one for traditional and modern Saudi cuisine and the other for international cuisine, as the ingredients used come from European Union countries. The nominated chef must serve an appetizer and a main dish. Participants must within one hour finish serving the main course and starters. »
It also specified that the two-person jury would award a score that would vary according to certain criteria that were predetermined by the jury. A candidate who scores less than 70 points will receive a certificate, and a bronze medal will be awarded between 70 and 79 points; Between 80 and 89 points, the candidate will get a silver medal, and finally whoever gets between 90 and 100 will be crowned with a gold medal.
Finally, Mr. Yasser added that the Saudi Chefs Association is part of the International Association of Chefs that includes 150 countries and that aims to support Saudi chefs and enhance their creativity.
Family, fraternal, friendly, joyful atmosphere, with universal colors
During these two festive days, visitors had the joy and pleasure of listening to hit songs for the enjoyment of young people, as well as songs from the 60s, 70s and 80s of the last century.
The old people who took the words of the melodies at the same time as the singers are delighted.
This family, fraternal, friendly, joyful atmosphere, with universal colors, is established during this festival. An atmosphere where people are walking around, smiling, relaxing and simply happy.
Children on bicycles, on motorbikes, others running for fun, others holding hands with their parents, others licking lips savoring their little spoils from cooking, others painting according to their fantasies, or playing with clay, others preferring to paint, added joy to the event.
This joy, wonderful communication, created a feeling of general well-being, confirming that such events provide an opportunity to relax in an atmosphere that reminds parents of last year's fairgrounds and forms beautiful memories for the young generations, present at this festival.