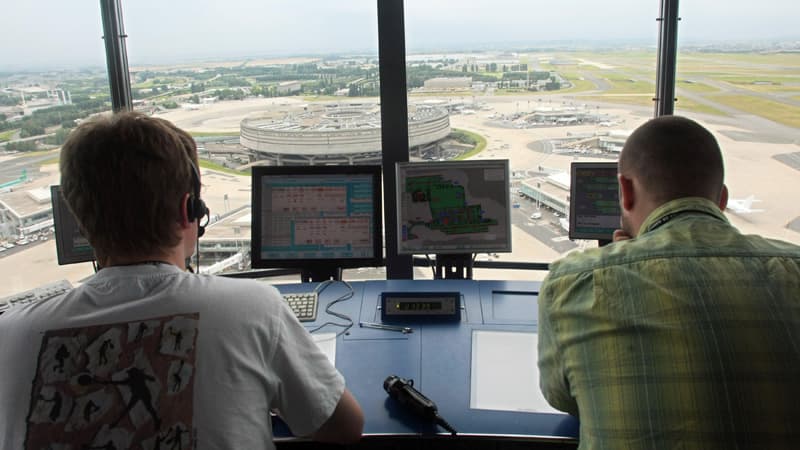 The majority union, SNCTA, condemns the silence of civil aviation "in the face of the inflationary situation" and calls for an increase in wages.
New pressure from air traffic controllers. In a press release SNCTA (the first union in the profession) announces its submission "Declaring a national strike involving all air traffic controllers and air traffic control officers on Friday, September 15, 2023 from the start of morning duty until the end of night duty." Ahead of the Rugby World Cup, which takes place in France from September 20 to October 8.
Traffic observers condemn the "silence of the DGAC (Directorate General of Civil Aviation, editor's note) in the face of the inflationary situation despite multiple alerts from SNCTA" you can read in the press release.
The National Commission states that the French air traffic control, like all European service providers, is governed by European performance plans which provide for inflation compensation. via A post-adjustment for the royalty rate, and therefore for revenue," explains SNCTA.
European airlines are complaining
And the demand "to finally take properly into account these mechanisms and remove the unjustified dogmatism of the public authorities, which exacerbates the leakage compared to its European counterparts and reduces the performance value and purchasing power of air traffic controllers."
The union calls for "mobilization to catch up with inflation and establish mandatory annual negotiations."
The spread of social movements among French air traffic controllers is beginning to seriously irritate airlines. "Since the start of the year, we've hit 23. And that's still going on," Ryanair Chairman Michael O'Leary said in March, on behalf of the Airlines for Europe (A4E) association. The CEO also regularly mocks France about it.
Given France's geographic location, these strikes already had cascading consequences for all European air traffic: "The British are heading to Spain, the Germans to Portugal, the Irish to Italy," as Michael O'Leary explained.
A4E, which groups 16 airlines or groups including Air France-KLM, Lufthansa and IAG (British Airways, Iberia and others), is calling on the European Commission to impose overflight protection in the event of an air traffic controllers' strike, a measure already in place for example In Italy, according to Michael O'Leary.
Olivier Chicheportich BFM Business Journalist