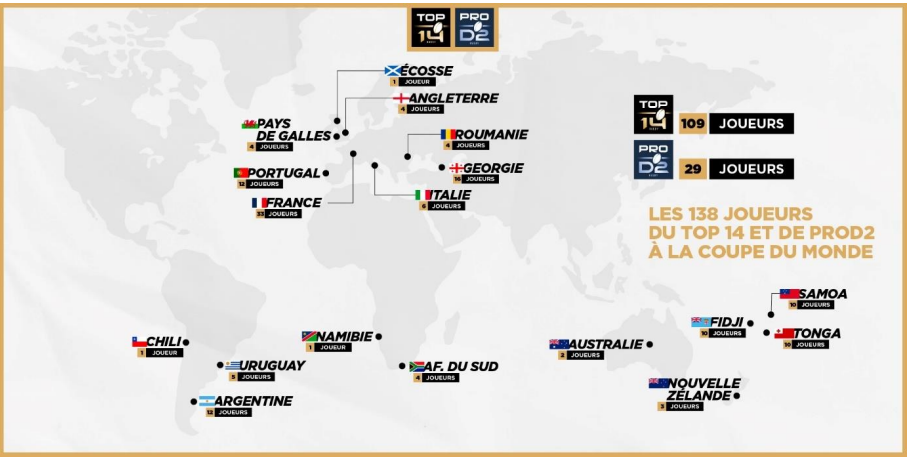 The 30 French professional clubs have at least one player selected to participate in the World Cup. In detail, list club by club.
The National Rugby League on Saturday published a list of the 138 top 14 players and Pro D2 players who will represent their countries at the World Cup. Thus each of the 30 French professional clubs has at least one player who will play in the competition. Thus the two French leagues are the most representative with more than 20% of players competing in the World Cup.
The Top 14 and Pro D2 teams of all continents will be represented as 18 of the 20 countries have at least one player from the 30 clubs in their ranks. Including 100% of the 33 blues list. This is followed by Georgia (16), Portugal and Argentina (12 each). Then Fiji, Samoa and Tonga, with an equal squad of 10 players each, Italy (6), South Africa, England, Wales, Romania and Uruguay (4 each), New Zealand (3) and Australia (2). Finally, Chile, Scotland and Namibia each have a "French" player.
It is logical that Stade Toulouse, the French champions, is the most representative, ahead of Stade Rochelle, European champions, LOU and Racing 92.
Top 14 (109 players)
Toulouse Stadium (17)
Cyril Bell, Julien Marchand, Beto Mofaka, Dorian Aldjeiri, Thibaut Flament, François Croce, Anthony Gilonche, Antoine Dupont, Thomas Ramos, Melvin Jamenet (France), Ange Capuzou (Italy), Peta Ake (Tonga), Richie Arnold (Australia) . Nebo Laulala (New Zealand), Jack Willis (England), Santiago Chocopares, Juan Cruz Mallia (Argentina).
RC Toulon (13)
Jean-Baptiste Gross, Charles Olivone, Gabin Villiers (France), Pekka Gigashvili (Georgia), Duncan Paiawa, Brian Alinoisi (Samoa), David Rebans (England), Isiah Nayakalivo (Fiji), Ben White (Scotland). – Facundo Issa (Argentina).
Rochelle Stadium (11)
Owini Atunio, Reda Wardi, Gregory Aldrete, Paul Bodhint, Pierre Bourgerett, Antoine Hastoy, Jonathan Dante (France), Will Skelton (Australia), Joel Sslavi (Argentina), Olobano Ciotini (Samoa), Levani Botia (Fiji).
Read alsoRugby World Cup: Live up your expectations and win loads of prizes!
Law Rugby (10)
Romain Tauvifenoa, Baptiste Quillod (France), Davit Naniashvili, Pekka Saginadze (Georgia), Martin Page-Rello, Monte Iwani (Italy), Phao Fotoeka (Tonga), Simi Radradra, Teemu Mayanavanua (Fiji), Jordan Tofo (Samoa).
Race 92 (10)
Cameron Wookie, Gael Fico (France), Joshua Toisova (Fiji), Juan Imhoff (Argentina), Henry Arundel (England), Vinaya Happusi (Fiji), Joram Gogeshashvili (Georgia), Will Rowlands (Wales), Trevor Nyakani and Sia Kolesi. (South Africa).
Union Bordeaux Bagels (9)
Sibele Vallatia, Mathieu Jalibert, Maxime Loko, Damien Benaud, Yoram Moifana, Louis Bilibari (France), Guido Petit (Argentina), Ben Tamifuna, Adam Coleman (Tonga).
USA Perpignan (8)
Tommaso Allan, Pietro Ciccarelli (Italy), Afosepa Taumoebo (Tonga), Marvin Urey (South Africa), Jeronimo de la Fuente, Joaquin Oviedo (Argentina), Celala Lam, Suotala Faso (Samoa).
HR Montpellier (7)
Bastien Challuru, Arthur Vincent (France), Mikheil Nariashvili, Luka Gaparidze (Georgia), Paolo Garbisi (Italy), Cobus Reinach (South Africa), Ben Lam (Samoa).
Kayaking Bayonne (6)
Cyril Macala, Luke Tagi (Fiji), Konstantin Mikautadze, Gela Abrasidze (Georgia), Manuel Leendekar (Uruguay), Rodrigo Bruni (Argentina).
Paw Section (6)
Guram Babidze, Pekka Gorgadze (Georgia), Siegfried Visiyehoe (Tonga), Lekema Tagitagivalu (Fiji), Samuel Whitlock (New Zealand), Tomoa Manu (Samoa).
Stade de France in Paris (5)
Joe Marchant (England), Tanginwa Halifunwa (Tonga), Giorgi Tsotskeridze (Georgia), Paul Alou-Emile (Samoa), Sekou Makalu (France).
ASM Clermont-Auvergne (4)
George Muala (Tonga), Marcus Kremer, Thomas Lavagnini (Argentina), Fritz Lee (Samoa).
Oyonax Rugby (2)
Pedro Bettencourt (Portugal), Sitiveni Maffei (Tonga).
Olympic Castries (1)
Santiago Arata (Uruguay).
PRO D2 (28 players)
AS Béziers Herault (3)
Francisco Fernandez, Samuel Marquez and Rafael Storte (Portugal).
Olympic Biarritz (3)
Tornik Galagonia (Georgia), Adrian Motoc (Romania), Lotero Tulay (Samoa).
Montoa Stadium (3)
Anthony Alves, Simao Bento (Portugal), Jorge Gayon (Romania).
SA XV Charente Rugby (2)
Inaki Ayarza (Chile), Nicolas Martins (Portugal).
Orilaques Stadium (2)
Luka Neuradzi (Georgia), Tomas Cretu (Romania).
Colomiers Rugby (2)
Rodrigo Marta and Vincent Pinto (Portugal).
US Montalbanese (2)
Tedo Abzandadze (Georgia), Tegui Ioannife (Namibia).
Joson Nevers (2)
Lado Chachanidze and Lasha Gianni (Georgia).
RC Valves (2)
Nicolas Freitas and Andres Villasica (Uruguay).
So Again (1)
Sonatani Takoloa (Tonga).
Ca Brave (1)
Vasyl Lubjanidze (Georgia).
US Dax (1)
Diogo Hase Ferreira (Portugal).
FC Grenoble (1)
Jose Madeira (Portugal).
Provence Rugby (1)
Thomas Francis (Wales).
Rouen (1)
Taylor Gontinac (Romania).
Valencia-Roman Drome (1)
Yoris Moura (Portugal).