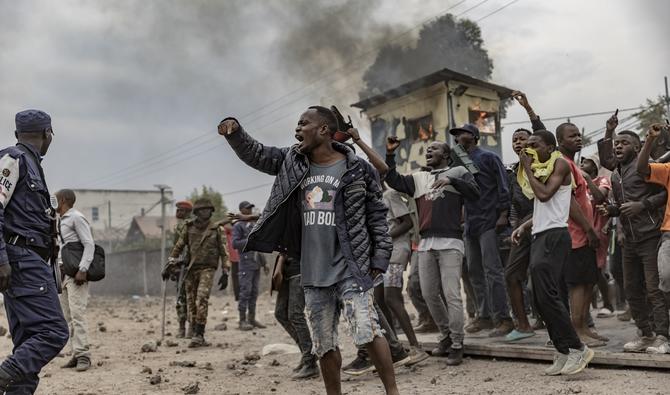 Beni: The Congolese police and army used warning shots on Monday to disperse protesters who were approaching the base of the United Nations Mission in the Eastern Democratic Republic of the Congo (MONUSCO) the day after the Blue Helmets killed two Congolese, an AFP correspondent reported.
An AFP correspondent in Beni (Northeast Kivu) noted that the police fired tear gas and soldiers in the air to disperse two columns of dozens of anti-Monosco demonstrators in the city of Beni at the invitation of the pro-democracy movements.
Congolese security forces set up tents and security perimeters in front of the MONUSCO installations in the city of Beni. An AFP correspondent indicated that the Blue Helmets had reinforced the security measures for their facilities with armored vehicles and combat tanks.
"We are facing a force that has all the military, logistical and financial means to put an end to the activities of the armed groups. As a result, they are not using them, we are demanding that these tourists leave," said Losire Chaabani. . , from the pro-democracy movement for change (LUCA).
"We're going to show until we really get that departure now that peacekeepers are killing us instead of armed militiamen," he added, releasing messages to motivate protesters. MONUSCO has been present in the Democratic Republic of the Congo since 1999 with the aim of neutralizing hundreds of local and foreign armed groups operating in eastern Congo.
After dispersing the demonstrators, they paralyzed the city of Bani with the barriers that were erected on the main arteries to prevent the passage of cars and motorcycles, while the security forces remained visible in several strategic corners of this community of 800,000 people, according to the latest estimates issued by the city council. .
In the neighboring province of South Kivu, dozens of demonstrators who tried to block the road to Uvira, at the height of Sange were dispersed by the police "without breaking" by the police, Marcel Matabiche, the mayor of this city told AFP.
On Sunday, peacekeepers returning from vacation in Uganda opened fire before opening the barrier and crossing the Congolese border at the Kasindi border post in Beni. Two people were killed and 15 wounded.
Le secrétaire général de l'ONU, Antonio Guterres s'est dit "outré", la Monusco a traité cette fusillade "d'incident grave", "inqualifiable et irresponsable", alors que le gouvernement congolais a condamné ceté la incident et appel "Quietly".