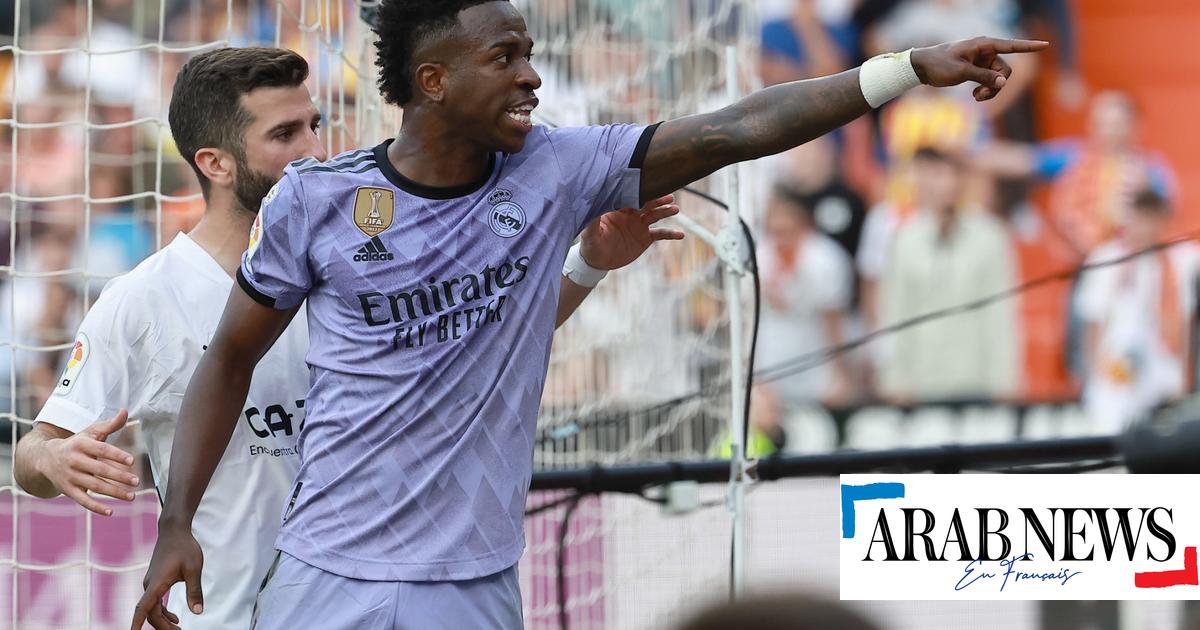 Madrid: Spanish justice opened an investigation, today, Monday, a day after new insults were launched against Vinicius, the Brazilian Real Madrid striker, during a match in the Spanish Football Championship, who is once again facing the scourge of racism in his stadiums.
The parquet floor in Valencia (southeast), where the Brazilian star was insulted on Sunday during a league match that the Merengue team lost to the local team (1-0), opened on its own initiative investigations into an alleged claim. "Hate crime," we learned from judicial sources. This criminal category includes racial slurs.
In the report submitted every week to the relevant authorities, La Liga announced Monday evening that it had identified "clearly" the racial insults and the cries of monkeys.
Spain's Sports Superior Council (CSD), which is equivalent to the State Secretariat for Sport in France, said it was analyzing the images in order to identify "the perpetrators of such insults and behavior to propose appropriate penalties". The Civil Status Authority also indicated that for similar acts of racism, it has already proposed this season a fine of 4,000 euros and a one-year ban on stadiums for the perpetrators of such insults.
In front of the press, Luis Rubiales, president of the Spanish Football Federation, admitted that Spanish football suffers from a "racist problem".
"zero tolerance"
The federation also called for the adoption of "stricter measures" that could lead to the closure of stands or even stadiums in the event of a repeat violation. For their part, Real Madrid and the Association of Key Players in Spain announced that they had submitted a complaint to the Spanish Public Prosecutor's Office.
However, through a new statement in the evening, Real Madrid said that it was "surprised" by the statements of the president of the Spanish Football Federation, who, according to what Real Madrid said, "allowed us not to act in a sharp way, following FIFA protocols, to avoid reaching this situation." Merengue urged the Spanish Football Federation to act "sharply and immediately" against racism.
"Intolerance of racism in football," Spanish Prime Minister Pedro Sanchez tweeted, emphasizing that "hatred and xenophobia should have no place in football or in our society."
These words and actions are in addition to the many support Vinicius has received, with the notable exception of La Liga's president, Javier Tebas.
On Sunday at the Mestalla stadium in Valencia, during the defeat of Real Madrid on behalf of the 35th day, the Merengue striker, who is regularly targeted, complained that he was called a "monkey" by the opposing fans.
"It was not the first time, nor the second, nor the third. Racism is normal in the Spanish league," he replied on the Instagram of the 22-year-old Brazilian player, who was excluded at the end of the match after a quarrel that saw his opponent escape from a penalty kick. .
"Country of Racists"
He added that Spain "is a beautiful nation that welcomed me and I love it, but it agreed to export to the world the image of a racist state."
His words did not endear him to Javier Tebas, who refuted any inaction on his part.
"We cannot allow the competition to be tarnished in this way, where more than 200 black players (sic) in 42 clubs receive the respect and affection of all fans every day, and where racism is a very delicate case (9 complaints) that we will eliminate," Tebas elaborated on Twitter.
La Liga claimed it had filed eight complaints this season over incidents involving Vinicius, but none of them resulted in a penalty. The only measures taken have come from clubs that, like Valladolid or Mallorca, have withdrawn subscriptions for a fixed period from specific fans.
Not enough, according to Real Madrid coach Carlo Ancelotti. "What has happened so far? Reports that have not come up with anything (…) The solution is to stop the match," a heated reaction, on Sunday evening, before his counterpart Xavi joined him on Monday.
"impunity, complicity"
Vinicius' support came particularly from Brazil, with the federation's president, Edinaldo Rodriguez, confirming on social networks that Vinicius has "the love of all Brazilians".
"A new episode of racism in LaLiga and Vinny is the victim again," lamented Ronaldo, the Seleção legend. "This will continue as long as impunity and collusion continue."
"With You" posted by Neymar and joined by Kylian Mbappe.
Valencia CF confirmed on Monday that it had already identified a fan who made racial slurs on Sunday and was looking for others. The club promised to "ban certain fans from the stadium for life".