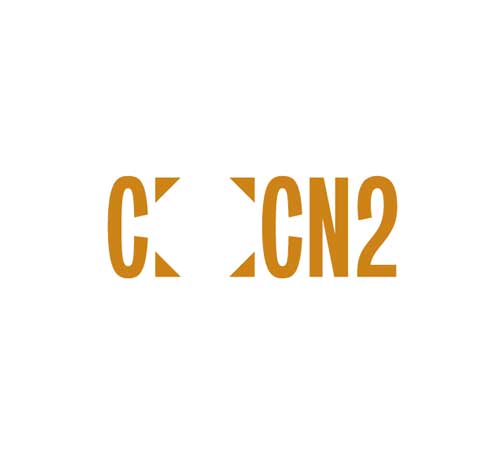 Yoann Bourgeois will leave his position as director of CCN2 Grenoble at the end of 2022. The recruitment jury, made up of representatives of the city of Grenoble-Alpes-Metropole, the administration of Isere, the Auvergne-Rhône-Alpes region, the DRAC Auvergne-Rhône-Alpes Ministry of Culture, the governing bodies of the association, met for selection Preset 4 apps individually or in pairs. The final decision will be made in mid-September to start on January 1, 2023.
Aina Allegri and Yannick Hugron
Born in 1986 in Barcelona, ​​Aina Allegri is a choreographer, dancer and actress. After an interdisciplinary training combining dance, theater and singing in Barcelona, ​​she joined CNDC in Angers in 2007, under the supervision of Emmanuelle Huynh.
Aina thinks of creating dances as an area of ​​reinventing and "imagining" the body. She is interested in very different cultures and physical practices, understood as the many social and historical constructions and representations, in order to interrogate and translate them into physical experience, giving them perspective on dance. Hence it expresses different dance elements created from different mediums: stage pieces, performances, videos.
In 2009, Aina signed to the duo SPEED and in 2011 created the performance LA MAJA DESNUDA DICE, this proposal led to the creation of the piece NO SE TRATA DE UN DESNUDO MITOLOGICO in 2012. In 2015 she created the piece DELICES and in 2017 the piece DAY OF THE MONSTER.
Together with Hadrian Tourette, she has transformed some shows into "Cinematic Essays" such as the movie 12 45 84 (2010), TRIPARIA (2011) and DELICES (2014).
At the same time, since 2010, she has collaborated as a performer with other choreographers and directors: Vincent Tomasset, Lorenzo de Angelis, Betty Chumanga, Fabrice Lambert, Inora Riviere, David Wambach, Vincent McCain, among others.
Yannick Hugron trained at the Center National de la Décima in Montpellier as well as at the National Conservatory of Lyon. He joined CCN de Grenoble for Jean-Claude Gallott in 1998 until leaving in 2016. He participated in almost all of the choreographer's pieces as well as several broadcasts in France and abroad. At the same time, he participates in several projects in particular: Annabel Bonneri, The People of Otterban, The Pole. In 2005, he co-founded the Kayaku Project group in Japan, a group of artists from different backgrounds.
Amala Dianor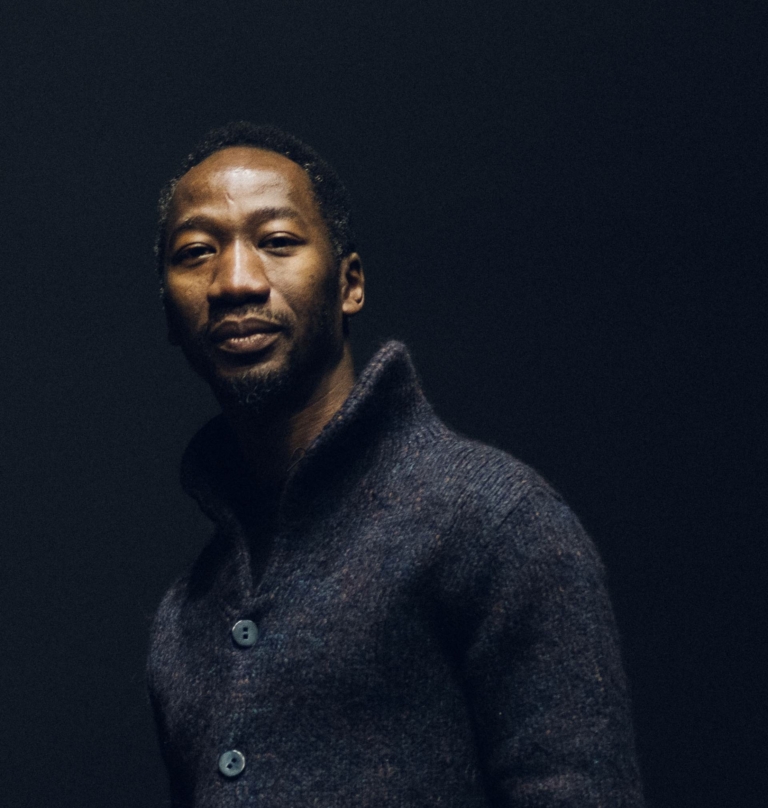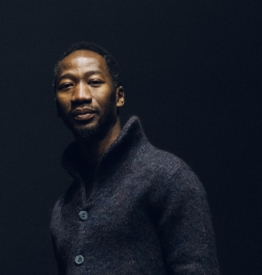 Self-taught Amala Dianur had a brilliant career as a hip-hop dancer, she joined the Graduate School of the National Center des Contemporaines in Angers in 2000. Since 2002 and for ten years, he has worked as a performer for famous choreographers from different worlds (Regis Abadieh, Fred Barki , Abu Ballara, Georges Mombui, Françoise and Dominique Dupuy, Hafez Daou and Aisha Mubarak, Emmanuel Gatt, etc.). In 2011, he won two poll awards for his first choreography titled Crossroad and set up his company in 2012.
The choreographer is very quickly recognized in the world of dance for the uniqueness of his elegant and organic writing that is part of a formal search for movement, at the crossroads of styles. Moving from base to base masterfully (hip-hop, neoclassical, contemporary, afro-contemporary…), he strips dance techniques of their dizzying proportions to retain only the elementary movements. Thanks to this deconstruction process, it allows performers to experiment with new gestural paths. Attracted to the encounter and dialogue between beings, he unfurls a choreography that mixes forms and opens up another poetics. Since 2014, he has been working in collusion with electro-composer Auer Lyon who created original music from his shows. Sometimes he works with choreographers (Michael Le Maire, Pierre Polo, Annabelle Loiseau, Jonah Fey, Beboy Jr, Mathias Racine, etc.), musicians (Auer Leon, Koki Nakano, Helos Gillard, Steve Eaton, Eric Aldea, Evan Keuson) , writer (Denis Lachaud), calligrapher (Julian Breton), visual artists (Grégoire Corgano, Olivier Gilquin and Constance Gleeve, Clément Debras, etc.).
They were invited to create at the Center National de la Danse or in the Suresnes Cités danse, then Associate Artist at the Théâtre Louis Aragon in Tremblay-en-France (2014-2016) and at CDCN Pôle-Sud in Strasbourg (2016-2019), also associated with Centquatre in Paris (2016-2018) and then supported by Théâtre de la Ville de Paris (since 2018) and artist associated with the Maison de la Danse de Lyon-European Pole of Creation (2019-2021), at Quinconces-l' Espal, National Theater in Le Mans as well as Touka Danses, CDCN Guyane (2021-2024) and at the Théâtre de Macon (2022-2024). Kaplan I Cie Amala Dianor has been supported by the BNP Paribas Foundation since 2020. It now has eighteen tracks in its collection and broadcasts an average of 80 appointments annually in France and around the world, with the support of institutions such as the Institut Français or ONDA …
Among her tracks, Amala Deanor notably performs her solo work Man Rec ('Only me' in Wolof in 2014), the extension of the duo (2014) with breakout star BBoy Junior or the trio Somewhere in the Middle of the Infinite (2016). In 2019, he signed his first breakout form with nine dancers to whom he conveyed his mixed gestures, titled The Falling Stardust and is currently on tour. In 2021, he created two new shorts: the Point Zéro trilogy which he performed with his dance friends Johanna Fey (co-director of FAIRE, CCN de Rennes), and Matthias Racine (multi-rock world champion); and the solo Wo-Man with which he lengthened the writing of his solo author Man Rec. In 2021, in search of new connected audiences, he joined forces with visual artist Gregoire Corgano and invented a series of creative short films titled CinéDanse, the first of which, Nioun Rec, is broadcast on culturebox.fr as part of Monuments in Motion and selected from the Villa Albertine catalog of dance films. in the United States.
In 2022, Amala Dianore was one of the four European choreographers elected by the Big Pulse Dance Alliance (Creative Europe) network. In the same year, Amala Dianor chose to respond to a commission by Via Katlehong for eight South African artists to be shown for the first time at the 2022 Avignon Festival.
Saatchi Nuru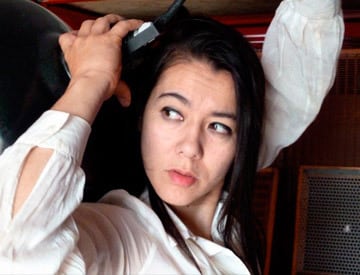 Sachi Noru took his first steps in the dojo of his father, the master of Aikido. Since childhood, she has intensively practiced classical dance. She is a disciple of Wilfred Beaulette. At the age of sixteen, she joined the German Opera in Berlin, which she left very quickly to pick up her shoulders with the alternative Berlin scene, taking part in several performances. After five years of traveling from Berlin to New York, she returned to France, where she joined several dance troupes. In 2002, she studied flight techniques at Michel Nowak's Noctambules de Nanterre circus school. In recent years, she has collaborated with directors Adrien Mondot, Claire Bardainne, Carlotta Sagna, James Thierrée, Michel Shweizer, Mohamed El Khatib, Emmanuelle Raynaut, Pierre Meunier, Marguerite Bordat…
Since 2002, she is also leading her own projects with her company Furinkaï. Since the fall of 2015, she has co-directed the Circus School with Olivier Verzelen and Place de Fabrique Les Noctambules de Nanterre. In 1999 she won with Alain Rigout from Villa Kujoyama (Kyoto) and in 2012 with the Hors-les-murs scholarship from the French Institute.
Sofia Dias and Vitor Rories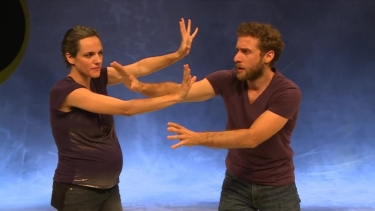 Spotted for some time in budding creativity on European theaters, Sofia Dias and Vitor Ruriez were spotted working side by side in 2006. They navigate unexpected areas of the body while searching for their relationship with speech. , to speak. .
Both have previously trained in contemporary dance and have also participated as actors in the work of famous choreographers, such as Jean Fabre for the former or Wim Vandekebus for the latter.
By very precisely cutting scenes in which spoken language and music are shared with laser-cut gestures, she creates an unusual and iconic look.
Sofia Dias and Vitor Rories have been collaborating since 2006. Their quest begins with movement but unfolds and uses words, sound, sound and objects. Over the past ten years they have created about fifteen displays of more or less traditional spaces. Besides their collaboration, each of them is involved in many projects for visual artists, choreographers and directors such as Catarina Dias, Lilia Mestre, Marco Martins, Clara Andermatt, Mark Tompkins or Thiago Rodriguez.
Since the beginning of their collaboration, they have organized workshops and offered courses for amateurs and professionals in very different contexts. They teach regularly at the Forum Dança and at the Higher School of Art and Design in Lisbon. They became more and more participants in meeting other artists in the logic of exchange and reflection, which led them to organize residencies and meetings such as Aware within the framework of the Alkantara Festival.