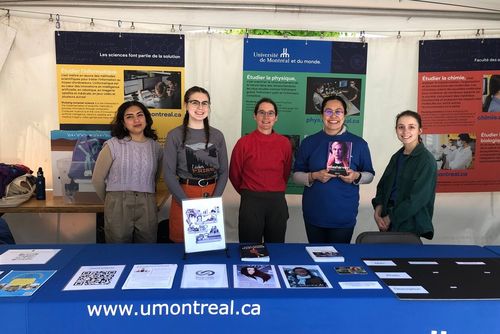 Thousands of children and teens from all over Quebec were able to take advantage of the perfect weather to attend performances, demonstrations, competitions and workshops at Eurêka Festival, the province's largest science festival. Among these activities, each more educational and enjoyable than the other, was that organized by the Faculty of Arts and Sciences of the University of Montreal.
A group of students from Department of Biological Sciences From UdeM I offered a workshop exploring the differences between fruits and vegetables, as well as explaining the fascinating phenomenon of photosynthesis using basil plants. "I loved sharing my knowledge with the public and watching people marvel when they learned that cucumbers, peppers, and tomatoes are actually fruits!" said Jessie Ngon, who is finishing her freshman year with a bachelor's degree in biology. Her colleague Lisa Benita Niebizi Omohir found the audience diverse: "There were people of all ages, from all over the world."
"I loved seeing that animation sparked the curiosity of many children and parents. It was a really great experience to be able to convey my passion for biological sciences," Bai Yin Li told UdeM students to learn about science communication. "What really motivated me was seeing the kids who were the most reluctant Beginning to be active and open when you interact with them. "Answering questions from young people who were once embarrassed remains the best memory of my experience," said Alexandra Landry.
Science for everyone
Julien, six, and Charlotte, nine, two curious festival-goers, have discovered what chlorophyll is.
"There were a lot of people on Friday, with school groups. At the weekend it was the turn of the families to occupy the site. Young people are very curious, they like to manipulate the material and are not afraid to ask questions," explained Jean-Philippe Provost, coordinator of activities at the University of Montreal. A year later, the public is there with enthusiasm. Places of knowledge such as universities are playing a role in making science studies exciting and accessible to the next generation."
Access is the organization's favorite topic. scientific equivalence, which was part of the UdeM marquee. A team of famous Parité Sciences instructors hosted a game to introduce inspiring female scientists from QuebecAccompanied by Blanche Mongeon, PhD student in mathematics.
"The high school years are essential in the formation of the scientific identity of young people, especially girls," emphasized the doctoral student. The Eureka Festival! expressed their interest in various scientific fields, some of which are unequal. It was very interesting and rewarding to show them that women can be successful."
Parité Sciences was also able to discuss the concept of inclusive teaching with the staff of the school groups. For Blanche Mongeon, "Young girls' interest in science and recognition of their skills must be supported throughout their studies so that they remember they can do anything."