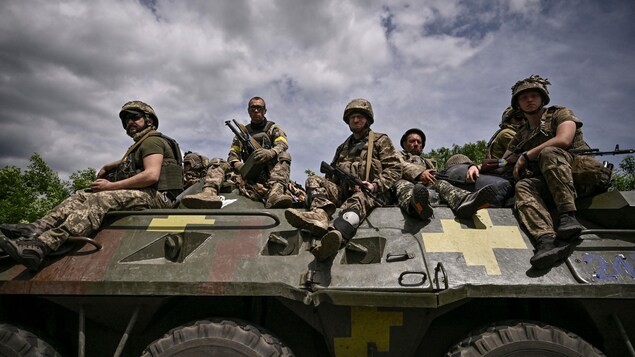 The Supreme Court of the Donetsk People's Republic sentenced the British Aiden Aslin and Sean Benner and the Moroccan Ibrahim Saadoun to death for participating in the fighting as mercenaries.the official Russian news agency TASS reported.
The three defendants will appeal, a lawyer for one of the three men, Pavel Kosovan, told TASS. The court also made it clear to the three convicts that they could also seek pardon, the news agency adds.
According to TASS, Sean Benner and Ibrahim Saadoun pleaded not guilty on Wednesday to the charges. mercenariesBut she admitted to participating in the fight Aiming at a violent seizure of power.
this is Alleged trial of soldiers of the Ukrainian Armed Forces […] worthlessIn response to AFP, a spokesperson for Ukrainian diplomacy, Oleg Nikolenko, denounced the trial Putting propaganda interests above law and morals.
Aydin Aslin's family clarified at the end of April that he moved to Ukraine in 2018, where he met his partner and settled in Mykolaiv. [sud-est]. He had decided to join the Ukrainian Marines and served in that unit for nearly four years.
Contrary to the Kremlin's propaganda, he is not a volunteer, a mercenary or a spy. Aiden was planning his future outside the army, but like all Ukrainians, his life was turned upside down by Putin's barbaric invasion.According to his family.
Did Sean Penner's family make it clear that he wasn't Neither a volunteer nor a mercenary, but officially serving in the Ukrainian army according to Ukrainian law. He also moved to Ukraine in 2018 and married a Ukrainian woman.
For his part, Ibrahim Saadoun was a student in Ukraine at the time of the Russian attack, according to his father, who confirmed Thursday, on the Moroccan news site Madar 21, that his son not a mercenary. In April, he accused the Ukrainian authorities of Recruitment of foreign students for use in the war.
London

very worried
We are obviously very concerned. We repeat that prisoners of war may not be exploited for political reasonsa spokesman for British Prime Minister Boris Johnson said, while head of diplomacy Liz Truss denounced a False rule without legitimacy.
According to the Geneva Convention, prisoners of war enjoy combative immunity and should not be prosecuted for their participation in hostilities.Downing Street is denounced.
I strongly condemn the sentencing of Aiden Aslin and Sean Boehner by Russia's proxies in eastern Ukraine. They are prisoners of war. This is a false ruling without legitimacyMs. Truss tweeted.
Pro-Russian officials have hinted in recent weeks that captured Ukrainian soldiers, including soldiers of the Azov National Regiment, could face trial and the death penalty.
A moratorium on the death penalty has been in place in Russia since 1997, but this is not the case in the two breakaway regions of eastern Ukraine.
The International Defense Corps of Ukraine (LIDO) on Wednesday denounced the trial of Andrew Hill, one of its members who was arrested by separatists. According to this organization that gathers foreign volunteers fighting with Ukraine, Andrew Hill is a Legion that has a contract with the Ukrainian armyAnd not a mercenary.
Lidu, the official body of volunteer foreign fighters, announced that four foreign volunteer soldiers, including a French, were killed in the fight against the Russian invasion of Ukraine.
For its part, Russia claimed this week that it had been killed favorable Foreign fighters in Ukraine since the start of its offensive on February 24, according to him, have been able to stem the flow of new arrivals.