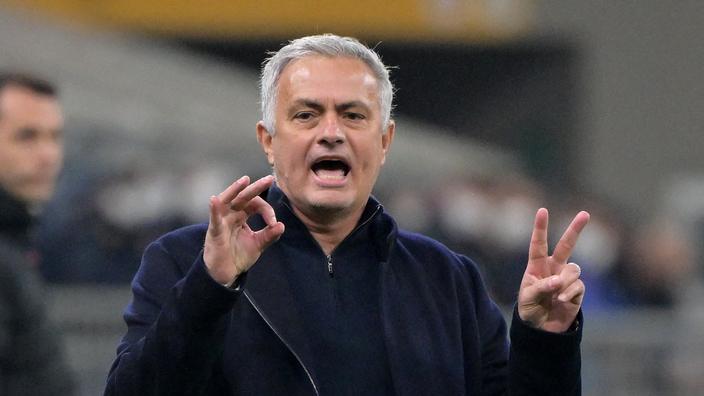 Roma coach Jose Mourinho received a two-match ban and a fine of 20,000 euros on Tuesday after being disqualified for a sarcastic gesture at the end of the game against Hellas Verona (2-2) on Saturday in the league.
Furious, the Portuguese technician insulted the referees and imitated a phone call, a mysterious gesture that earned him a red card from game director Luca Barreto at the start of overtime.
Read alsoSerie A: Inter miss Sassuolo, Milan remain in the lead
According to Italian newspapers, "Special One" considered the additional time announced as insufficient. With his gesture and words, he would have accused the referee, whose brother was a Juventus manager Turin and his father implicated in the Calciopoli arbitration scandal in 2006, of wanting to prevent Roma from winning.
Jose Mourinho himself did not explain himself, preferring "Go home and have a nice dinnerAccording to the message posted on Instagram.
Read alsoSerie A: Napoli, who are crowded in Cagliari (1-1), misses the goal before they receive Barcelona.
The sports judge explained in his decision that Mourinho, "Turning to the fourth referee, he made serious hints against the game director".
Regardless of the coach, Roma general manager Thiago Pinto has been suspended until 8 March for addressingSerious hints"The referee after the match reduced the penalty for doing so."an excuse".
Read alsoBarcelona: Serie A does not give up on Memphis