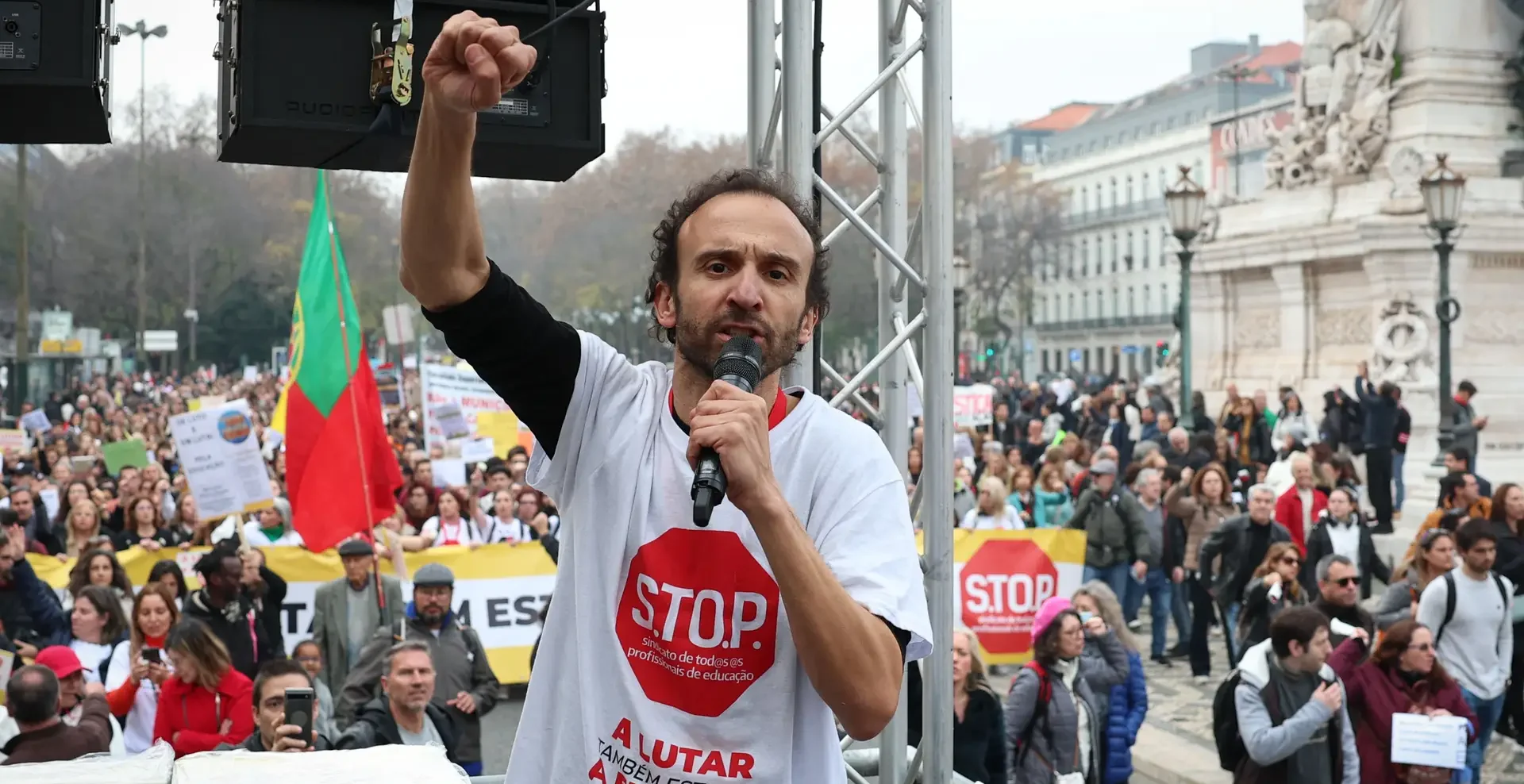 Schools across the country remain closed in a "climate of stress".
The clash between teachers and the education ministry is expected to continue, it was reported on Wednesday, as many schools across the country remained closed and protests continued.
"The recent proposals of (Education Minister) Joao Costa did not meet the main demands of the unions, and the minister's statements added more fuel to the fire," she wrote. Curio da manhaQuoting the General Secretary of FENPROF (Federation of Teachers' Unions) Mario Nogueira who insisted that "the wave of protest will continue to grow if the government does not respect the teaching profession".
Mario Nogueira was speaking on a day of turmoil in Valencia, Figueira da Foz, Marinha Grande, Coimbra, Setubal and Cascais – these are just some of the areas affected by this strike which is now almost certain to affect the economy (eg, many of them). Parents had to take time off from work to take care of their children.)
According to Mario Nogueira, the idea is to "teach the government a lesson". And he insists that the wave of protest is growing steadily: "No one will stop a wave like this, and we will continue to help the wave grow …".
The FENPROF-backed strikes join nine unions and are not expected to end until February 11, when Nogueira predicts another mass protest in Lisbon, "larger than any before".
The fact that STOP (Union of All Teaching and Non-Teaching Staff) is pushing its own "wave", calling for a new demonstration on Saturday, in Lisbon – and issuing daily challenges to President Marcelo Rebelo further complicates the issue and Souza has to "intervene" (i.e. mediate) out of this predicament.
On Tuesday, the president was seen in the company of Education Minister Joao Costa (attending the recent conference of a former education minister), but little was said.
According to reports, "Joao Costa kept silent about what he hoped for in negotiations with the unions", while Marcelo described himself as "hopeful".
In many ways, this strike "runs away on its own." Andre Pestana, the leader of the STOP team, is confident that he has the attention of the public, although many parents (maybe even students) are tired of the constant turmoil and the inability to return to the daily routine.
"Many parents and many children joined us because they understand our suffering," he told reporters.
"We are education professionals, both teaching and non-teaching staff, who are also parents and grandparents and our children and grandchildren also miss lessons. What you have to understand is that the great achievements of labor law – limiting working hours, parental leave, etc. »
"This fight was started by STOP – unfortunately the other unions didn't want to take our side – but it's not a fight for STOP or André Pestana. It's up to everyone and in defense of the public school system. Society is not used to this level of unionization. I've already told the minister Whoever decides if and when this fight will stop will not be André Pestana or the political leaders. It will be thousands of colleagues, education professionals, who will decide democratically in the schools," Pestana continued, showing how difficult it is to bring this issue down to the level of calm required for a conduct Constructive discussions.
However, the media highlights the situation of many teachers, and shows how miserable conditions are for them.
Wednesday's example was Luisa Rodriguez, 46, a contract teacher for 20 years. She has a gross salary of €1,047.89 but only gets €850 per month. "I have an incomplete 15-hour schedule, but I'm working 60 when I have 140 exams to score," she explained. Curio da manha, who adds that she lost her teaching job in 2011 (as many teachers did in the post-bailout years of austerity) and immigrated to Switzerland to work as a cleaner. She later returned to work in Covilha, teaching history.
The newspaper says that Luisa Rodriguez fully sympathizes with the wave of protests and regrets the climate of uncertainty.
What ordinary people might miss in covering these protests is how many people like Luisa Rodriguez have already lost their teaching profession in Portugal over the past decade. Thousands changed jobs as they watched conditions deteriorate – yet another reason why those who stayed were burdened by their responsibilities in the face of lackluster 'rewards'. Student satisfaction with education does not pay the bills or put food on the table. This is why the situation has reached this crisis point.
On Wednesday, reports indicated that "new forms of protest for February" were in the works.
President Marcelo's "fear" that strikes would affect Carnival seems to have become a reality.