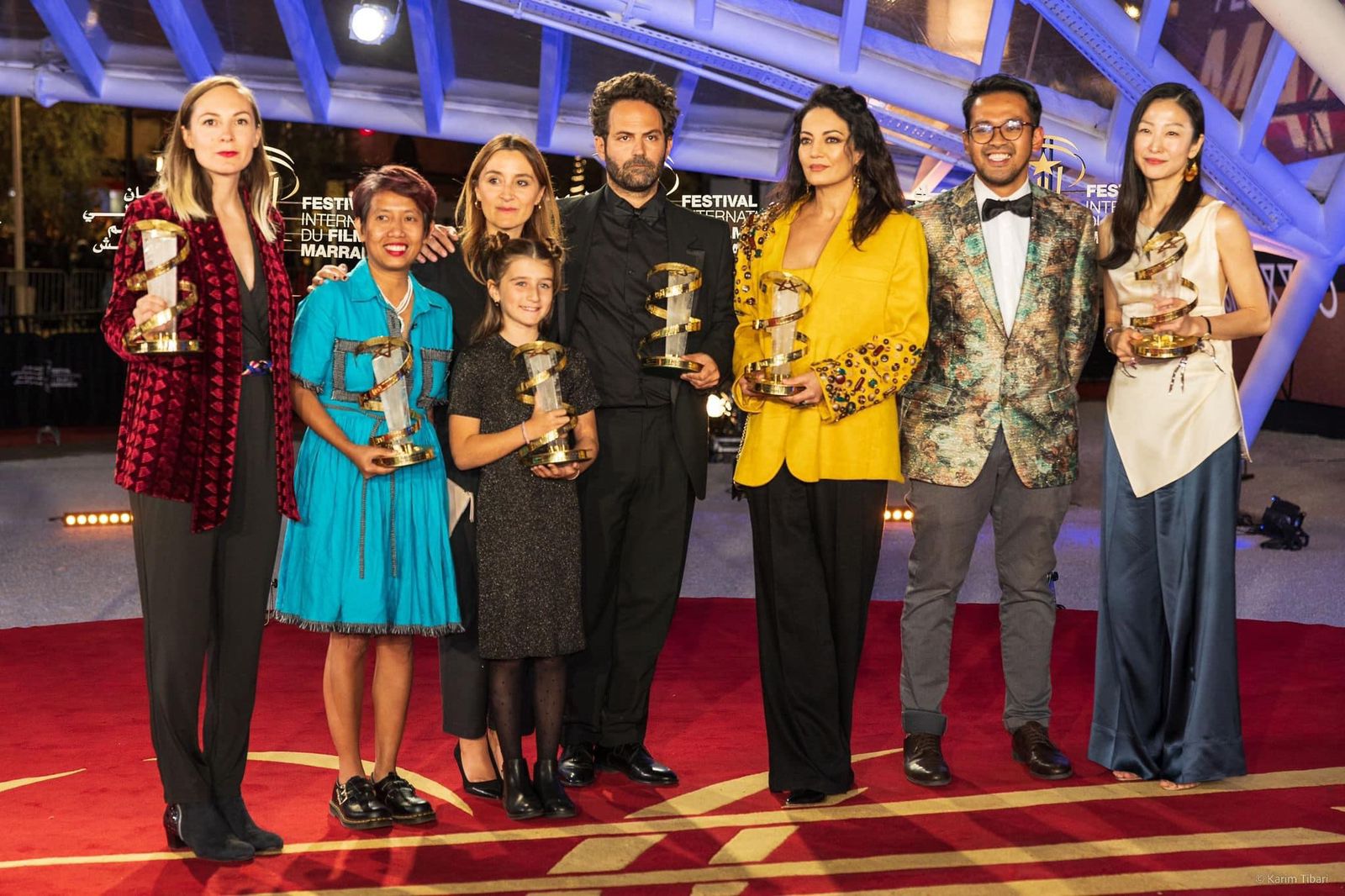 The International Film Festival just ended on Saturday, November 19th at the Conference Palace in Madinat Al-Maghra. The highlight of the closing ceremony was the announcement of the results of the jury for this version, headed by Italian director Paolo Sorrentino, with the coronation of the Iranian film.
Among the 14 films in the official competition, the jury awarded the cinematic work of Iranian director Emad Ibrahim Dehkouri "The Black Knight" by awarding him the prestigious "Golden Star".
Indeed, this 102-minute feature film is an autobiographical story, celebrating the quest for freedom and the refusal to conform.
Speaking on this occasion, Imad Al-Ibrahim Dahkuri said that he was very moved to hear his name announced by the chairman of the jury, adding that it was an acknowledgment of hard and wonderful work that indicated his relationship with his country, Iran.
"If I am here today, it is thanks to the culture and history of Iran, through them I built myself artistically," he said.
As for the Jury Prize, the Equity Prize was awarded to the Portuguese film "Alma Viva" by film director Christel Alves Mira and the film "Bleu du Caftan" by Moroccan director Maryam Touzani.
On the "L'Opinion" mic, Kristel Alves Mira did not miss
To express his joy at this recognition.
"It is an honor for me, for the film and for the entire team to receive this award from a jury of directors that I deeply appreciate."
For her part, Maryam Al-Tuzani said that she is pleased with this distinction. "I am very moved, it is an important moment for this film to receive an award like this in Morocco."
And to add: "After this appreciation, I keep very good memories of this wonderful event, especially the emotions I felt at the time of the film's showing and the reactions I received from the audience afterwards."
As for the best directing award, it went to Swiss director Carmen Jacquet for her movie "Lightning".
"I am delighted to receive this directing award, and it is a great idea for the entire team who participated in this creation and who brought it to life and vitality," she rejoiced, expressing her pleasure in sharing this film with film students in Marrakech. "It gives me more strength and energy for other projects," she told L'Opinion during the ceremony.
Meanwhile, South Korean-Canadian actress Choi Sung-yeon won Best Actress for her role as an immigrant single mother in Canada in "Raiseboy Sleeps."
Choi Seung-yeon, who received her award from Moroccan actress Nadia Kunda, said she was pleasantly surprised. "This award is an honor for me. I couldn't imagine receiving it from my hands. It's still hard to believe," she said.
Indonesian actor Arswendy Bening Swara won the award for best actor for his role in the movie "Autobiography", which was received by Indonesian director Maqbool Mubarak, who said: "We are happy for Arswendy, he has been working for a long time and he has never received any recognition before. Such a level. It is also from Best marks of recognition for his career. We are very happy for him."
19the This year's edition of FIFM celebrated world cinema. The jury, consisting of eight members representing four continents, was able to watch a total of 14 cinematic works throughout the festival period representing 14 countries in the five continents (Australia, Brazil, Canada, France, Indonesia, Iran, Morocco, Mexico, Portugal, Sweden, Switzerland, Syria, Tunisia and Turkey ).