Food and drink are an integral part of Portuguese life. when we think of Portugal What is the first thing that comes to mind? Great food and wine.
The Portuguese love a tasty meal and it shows up everywhere, especially at weddings and other kinds of celebrations. when planning the cellar wedding In Portugal, menu choices are many – it's hard to choose just one or more.
Choose the wedding menu
For couples looking for a more personalized touch to their menu and wine list, wedding caterers suggest that it's always a good idea to incorporate their favorite dishes and those of their partner on the menu. Whatever the couple's wishes, it always proves a good idea to work with a caterer first to provide a wedding menu. This way they can never be wrong.
Most of the winery's wedding venues Portugal You have a team of experts who will help you choose and customize a unique menu. One of the most popular is Quinta dos Vales, in Algarve, with a full catering team dedicated to meeting all requirements. with award winning wine And a chance for newlyweds to make their own keg, this venue has earned the title of most popular choice for couples due to the amazing wedding experience it offers.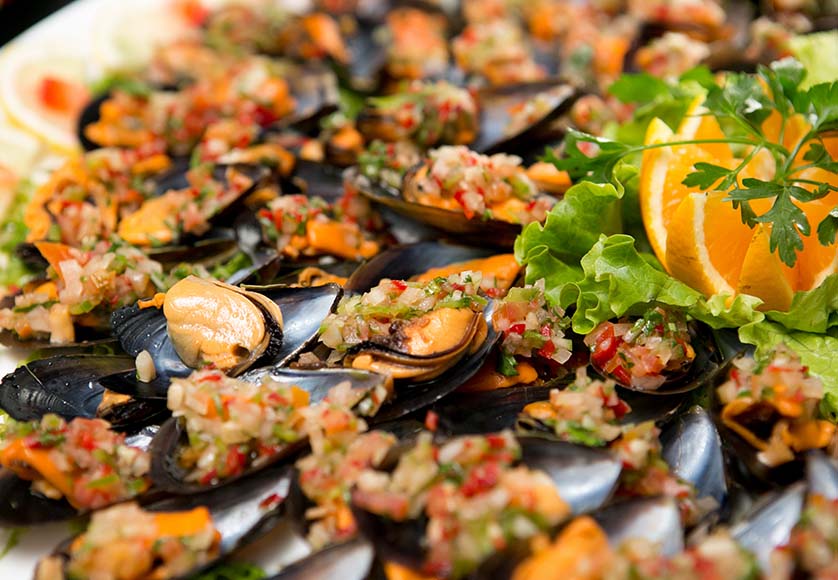 When designing the wedding menu at this venue, couples also have the opportunity to sample a wide range of culinary delights. They can schedule a tasting session in the tasting room, where the caterer and his staff prepare their carefully selected menu. It is adjacent to the panoramic terrace which can easily accommodate up to 120 guests to enjoy the prepared meals on the wedding day. The roof of this terrace is only supported by columns, which still retain that outdoor feel while protecting guests from heat or weather changes. This sets the tone for an elevated customer experience – they can enjoy delicately prepared dishes in comfort, without having to compromise while gazing out at the surrounding vineyard slopes and greenery. Food and wine are best enjoyed when all comfort conditions are met, which is why the establishment offers a Quinta package!
The Quinta package is the foundation of your reception menu that includes everything to make any event a success – from space rentals to food, beverages and catering. Of course, couples can choose to include their own wishes and upgrade their package with the help of the venue's catering team. The place offers several service options that ensure a truly personalized experience. The best part is that each dish is meticulously prepared from local ingredients with the ability to adapt to any dietary requirement. Quinta dos Vales strives to provide the ultimate package options by allowing couples to upgrade each item separately as desired.
Wedding menu sample
Organizing a winery wedding means that in addition to wine, delicious cuisine and a wide variety of flavors and colors must be presented on the plates. The wedding The food usually includes appetizers, appetizer choices (there are usually a few variations that will give his guest a chance to choose), and last but not least dessert. Naturally, couples do not have to follow this order.
Wedding experts suggest that if couples want to have a lavish cocktail-style wedding, they should definitely go for it. Portugal pays attention to choosing different flavors and thinking outside the box. When making the decision, couples should also consider purchasing menu cards for each mise en place.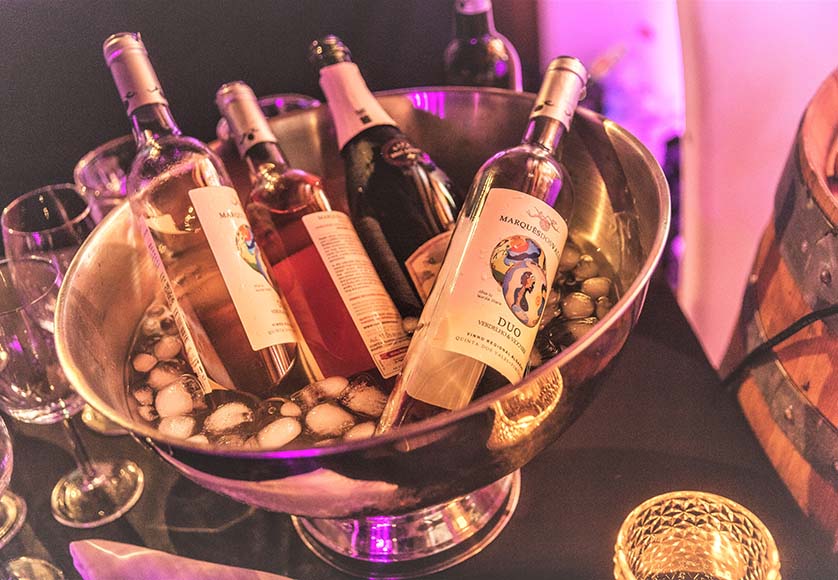 Welcome cocktail list
This type of menu may include drinks such as white and sparkling wine, martini, dry port, fresh juices with seasonal fruits as well as mineral water and soft drinks.
Welcome cocktail – gourmet menu
a wedding The reception menu can include savory dishes such as smoked salmon mousse with croutons, croutons, regional sausage patties, veal croquettes, brie gratin with quince jam, shrimp paste, prosciutto, pineapple rolls, vegetable samosas, cod fritters, etc.
Portugal wedding listings
Portuguese weddings are rich in flavor and colour. Therefore, the culinary options for their wedding menu are endless. Caterers suggest couples opt for more of the seafood menu and get the seafood pie with green salad, mint roasted leg of lamb with an array of greens and crispy sweet potatoes on the side.
Also, they can have cold or hot soup, goat cheese pastry with honey and walnuts served with watercress salad, monkfish with fried oysters and shrimp served with vegetables. Everything goes well with wine cooked at a low temperature, 'carqueja' rice, cherry tomatoes, red onions and celery.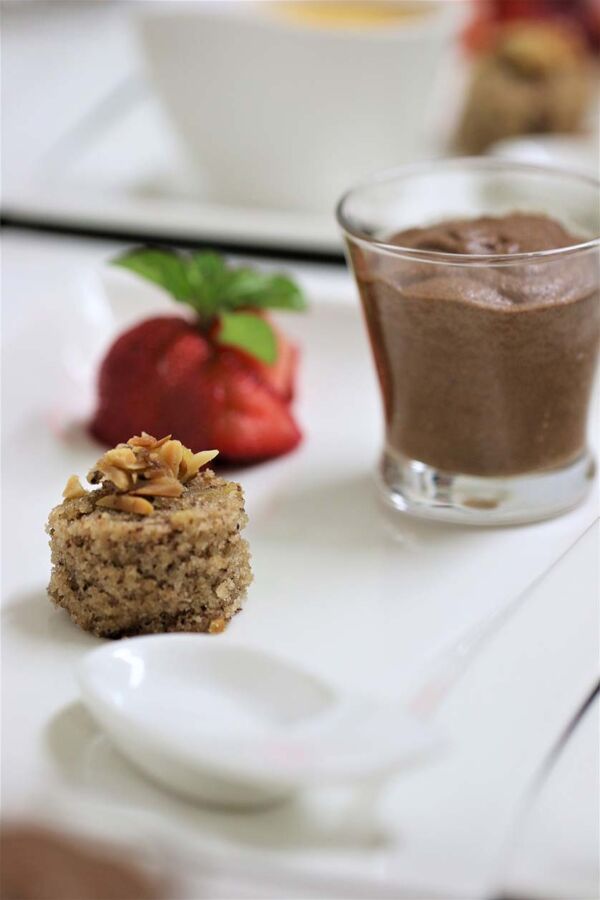 Choice of sweets
According to experts, two of the most delicious and traditional dessert dishes on the dessert menu are:
Egg pudding with strawberry carpaccio
Dark chocolate and passion fruit emulsion
A charcuterie and pasture board
Some of the new ways to enrich wedding tables are to incorporate a delicious charcuterie or a pastry board. It's one of the most foolproof ways to seamlessly pair each bite with a curated array of flavor profiles. In addition to all kinds of cheese, an Almarai bar filled with feta dip, avocado or hummus is usually added in small bowls. Grapes, olives, and bite-sized fruits like berries work well on the table.
Experts agree that other sliced ​​fruits such as apples and pears, dipped in fresh lemon juice can also be considered. Another great addition to those rich pigs are crackers, sliced ​​baguette, or pita bread. Delicious, elegant and sophisticated in every sense of the word.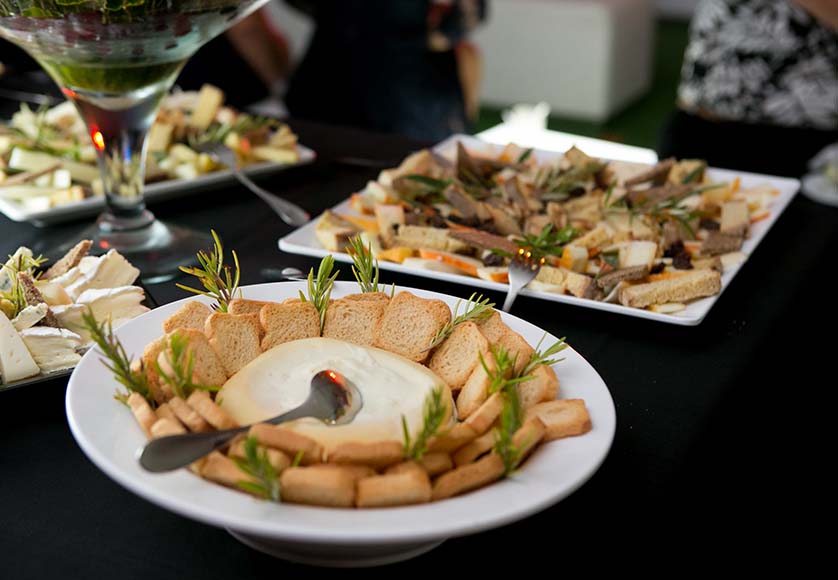 Organic products
One of the best things about a winery wedding is the other level of "homemade" experience. That means fresh fruits and vegetables, homemade bread, and a tasty selection of cheeses like quejo de azetao, sweet serra da estrela, and spicy quejo de sao jorge de azores; Homemade smoked meats, grilled meat dishes and, of course, wine.
Portuguese like fresh Vinho Verde, flashy reds from the Douro or Alentejo valley, or some of the most exclusive Colares wines found nowhere else in the world are a guarantee of a good time. And unforgettable moments!
Couples who want to enjoy a wedding in a vineyard, accompanied by the most luxurious wedding food and wine menu, you can find more information about the services of the world-famous Quinta dos Vales winery at their site wedding department.
Sponsored Content