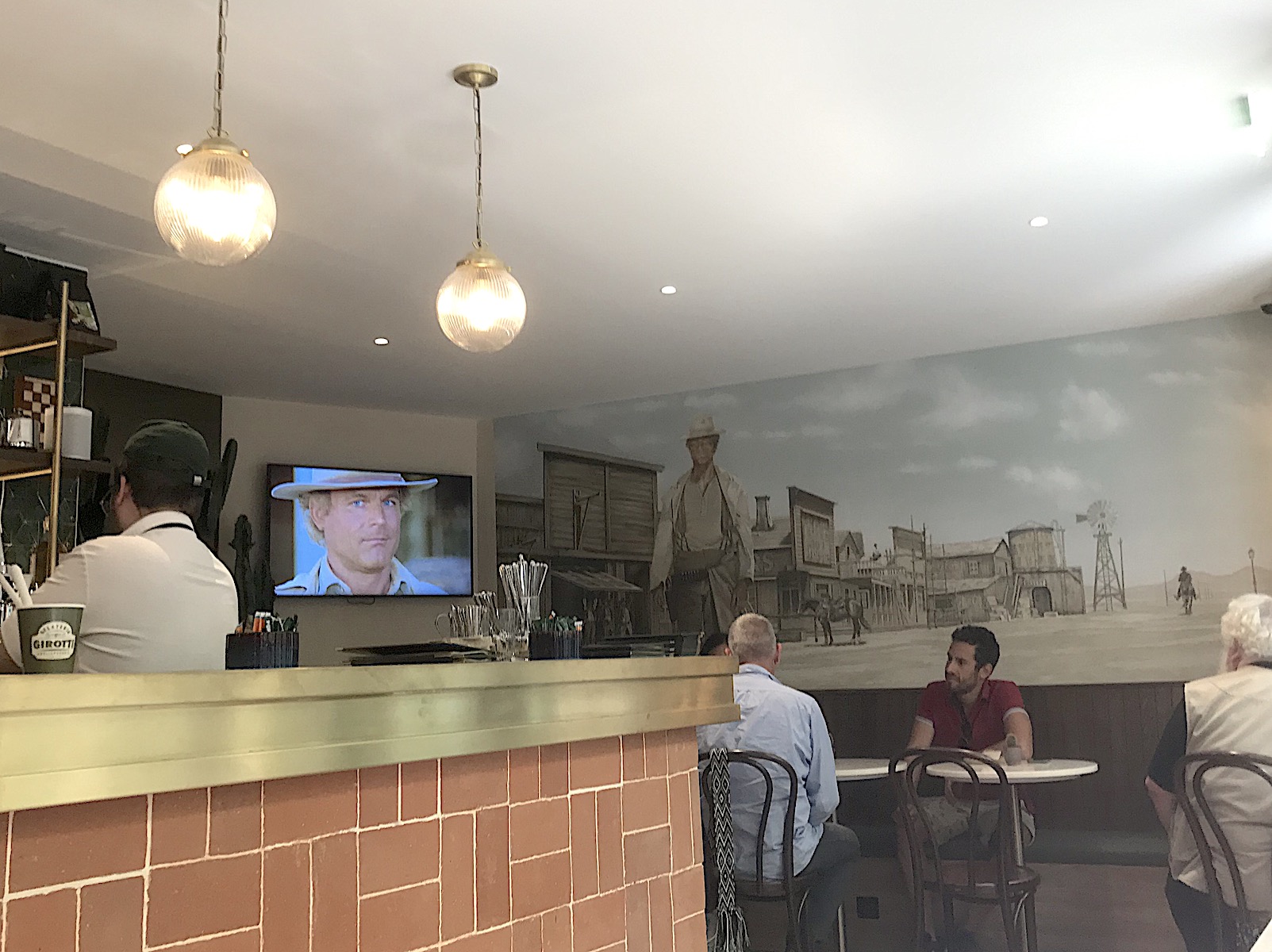 After Amelia, Berlin and Dresden, Mario Girotti, better known as Terence Hill, modernized Boulevard Raspail. Actor, director, and producer of the B series, best known for his performance in a second-rate Western with global ramifications alongside Sancho Panza. Bud Spencer, aka Carlo Pedersoli, who died a few years ago, has just opened an ice cream parlor in Paris, between La Rotonde and the Alliance Francaise.
Il mio nome è Nessuno
Until his meeting in 1967 with Bud Spencer, the swimming champion in Naples, recycled by a movie star like his model Johnny Weissmuller, Terence Hill appeared under his family name in several films, including under directors who marked the history of the Seven Ar as George Wilhelm Pabst , Vittorio De Sica, Dino Rizzi, Mauro Bolognini, Mario Bava, Carlo Ludovico Bragglia (creator of futuristic cinema), Carmine Gallon (inventor of the peplum), etc.
Under his stage name, the actor had a supporting role in Visconti's The Cheetah (1963) and his fame began with the movie. God forgive me…not me! (1968) by Giuseppe Colizzi. He shot seventeen tracks with his alter ego Bud Spencer, including Lo chiamavano Trinità (1971) by Enzo Barboni and above all his favorite film, we are told, Il mio nome è nessuno (1973) by Tonino Valeri, produced by Sergio Leone, Music by Ennio Morricone, which refers not to the Portuguese writer Pessoa but to the mythical character of Ulysses.
completely frozen
It took the audacity to open a store in Paris where there is no shortage of competition with Aleph by Myriam Sabet, Le Bac à glaces, Bachir, Bältis, Berthillon, Big Mamma, Bleu bao, Cookidiction, Emkipop, Fabien F Phoenix, la Fabrique frosted, Voldrol By Jessica Yanga and Robert, Companion, Fruttini by Moe, Honorati, Ile Gelato del Marche, Glacier de Paris by David Weismael, Glacies Paris, Glacier 1891, Glazed, Jacques Genin, Groom, Hugo and Victor, Kaiser, Kim's Ice Cream at Printemps Haussmann, Lenôtre , Maison La Cornue, Alain Ducasse's Ice Cream Factory, Mariage Frères, Matthieu Carlin, Plan D, Pozzetto, Pierre Hermé, La Quéquetterie, Raimo, Reÿs, Kawaï's Snowvan, Thierry Ménager's Ice Cream, Tourbillon, Tropical – Tang Dang, Ice Cream V Paris composed by Emmanuel Rayon and Olivier Menard, Shen Fu Tang …
Playing a humble role, Gelateria Girotti, between the tradition of ancient Raimo formula and the "modern" boldness of Ducasse's sugar-sweetener, expands melliflu into Acrid, bitter, acid, under the influence of nutritionists who believe that what used to be good is no longer good. Girotti's house does not aim to impress either of them, even if its screens broadcast tapes shot in Cinecittà, in the studios of Elios and Titanus, or in Almería in the '60s and '70s and a more recent TV series where the actor finally expresses himself in his true voice – no longer by Benno Lucchi. In the Girotti parlor there is regular ice cream and neighbours, drawn by the starlight and unseen curiosity, who drink Terence Hill-branded coffee from early morning, ricotta and pear pastries, hazelnut cream, and salad at noon, eat fig ice cream, chocolate and Calabrian peppers, with Very Melting Lucky Luke, a movie title taken from the comic strip, directed by the actor.
Visible: Photography by Nicholas Velodry.