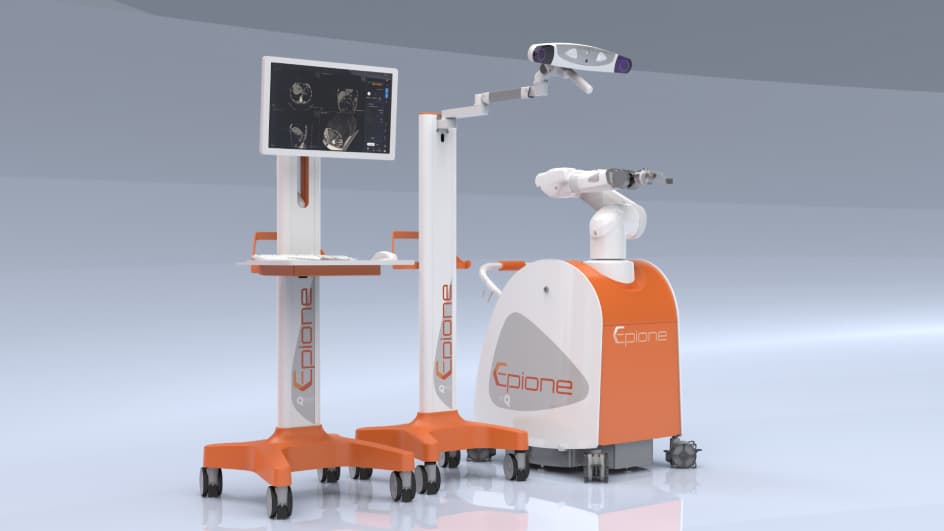 What if robots could cure cancer? This is the will of Quantum Surgical, a startup in Montpellier that has developed a robot with multiple benefits. Bertine Nahum, its president and co-founder, was a guest of Tech & Co.
Early liver cancer treatment is now possible thanks to robots. Quantum Surgical has developed a robot, Epion, that delivers minimally invasive technology to a patient, making it possible to treat cancer in a more effective way.
"We're not replacing the practitioner, it's a tool that's there to help him," explains Bertin Nahum, president and co-founder of Quantum Surgical and guest Tech & Co. It's precision work that comes and targets a tumor that makes a few millimeters in diameter on a breathing patient. A robot will help the practitioner place the ablation needle." .
100 patients are already operating
This alternative to traditional surgery offers many benefits, both for the patient and the practitioner. It is not necessary to open the abdomen. Thus, recovery after the operation becomes much simpler.
The treatment process takes place in several stages. First, the data from the patient's MRI scanners and machines is collected by the practitioner, who then feeds it into the robot. Thus, the robot will be able to target the path of the excision needle in a very precise way.
"We still have literal surgery based mainly on the practitioner and what they look like on the day. With robots, we will have a more equal performance among patients," notes Bertin-Nahum.
100 patients have already undergone surgery with this new technique. "Less than 10% of eligible people benefit from this treatment because we have insufficient practitioners to perform this procedure. We are here to standardize this approach," adds the co-founder of Quantum Surgical.
Treat cancer at an early stage
The main goal of this robot is to treat cancer more prematurely than with conventional surgery. Conventional procedures often require a longer waiting time because they require a larger tumor to treat.
Liver cancer today affects about 3.2 million people worldwide. This type of disease caused 830,000 deaths in 2020. Liver cancer is the third deadliest type of cancer, and the sixth most common.
But other types of cancer are being treated or will soon be cured by the quantum surgical robot, as announced by Bertin-Nahum: "We started with the liver but have extended the robot to other organs such as the kidneys and pancreas. We hope that very soon it will be able to treat bone and lung cancers." .
Good news for the medical community, who can now rely heavily on technology. "In some cases, such as in orthopedics, robotic action has become the norm. We are at this point where technology is entering the operating room in an important way," concluded Bertin-Nahum.