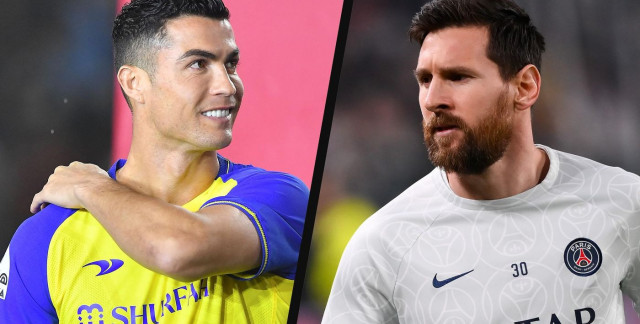 One of them crowned his last title with the title of world champion, and the other chose a golden retirement in the Kingdom of Saudi Arabia: two living legends in football, Argentine Lionel Messi and Portuguese Cristiano Ronaldo, meet Thursday in Riyadh during a festive match between Paris Saint-Germain and. A selection of the best players from the Saudi Al-Hilal and Al-Nasr clubs.
The long rivalry for the lawns of Spain and Europe between Messi and Ronaldo is also a battle of numbers:
. 1
If only one trophy is needed, it is the World Cup, which Argentina won from Lionel Messi in December in Qatar. But his first major trophy dates back to 2005 with the U-20 World Cup. In 2008, he won the Olympic tournament in Beijing but had to wait until 2021 to win the America's Cup. At the club, he won 10 La Liga titles with FC Barcelona and the title of French Champion.
Ronaldo has the title of European Champion (2016) and Nations League winner (2019) to his credit. His footballing career is more plentiful with seven league titles with three different teams (three with Manchester United, two with Real Madrid, and two with Juventus Turin).
. 2
Two years separate Lionel Messi (35) and Cristiano Ronaldo (37).
. 5
Ronaldo won the Champions League five times (2008 with United and 2014, 2016, 2017, 2018 with Real) compared to only four for Messi in Barcelona (2006, 2009, 2011, 2015).
The two men have also met five times in the Champions League, with two wins for Messi and one for Ronaldo (two draws). Ronaldo's club, Manchester United, had eliminated Spanish club Barcelona in the C1 semi-finals in 2008, in their first head-to-head encounter on the international stage. Messi took revenge in the final of the next edition by winning 2-0 (with one goal).
. 7
For 14 years, Messi and Ronaldo held the Ballon d'Or and only two other players (Luka Modric in 2018 and Karim Benzema in 2022) managed to step into the list. Polga leads the dance with seven titles (2009, 2010, 2011, 2012, 2015, 2019, 2021) against five for the Portuguese (2008, 2013, 2014, 2016, 2017).
. 16
It is the number of victories for the Argentine in 35 head-to-head matches in all competitions, compared to 10 for the Portuguese (9 draws). Messi scored 22 goals in those confrontations, compared to 19 goals for Ronaldo.
. 196
Ronaldo is the joint world record holder for the number of appearances with the national team alongside Kuwaiti Bader Al-Mutawa. The Portuguese is also the all-time leading goalscorer for the national team, all selections combined, with 118 goals scored, which is another record.
. 807 (at least)
By scoring his 807th goal in an official match with Manchester United in March, Cristiano Ronaldo set a new world record, besting Czech Josef Pecan's 805, according to FIFA. With 140 goals, the Portuguese striker is also the all-time leading scorer in the Champions League (preliminary round excluded).
During Euro 2021, he became the top scorer in the continental championship in its history (14 goals in five appearances, another record).
In the World Cup, he became the first player in Qatar to score a goal in five editions of the tournament.
For his part, Messi scored 794 goals since his professional debut in 2004, including 672 goals in 17 seasons with Barcelona, ​​and 98 with the Argentine national team (172 international matches).