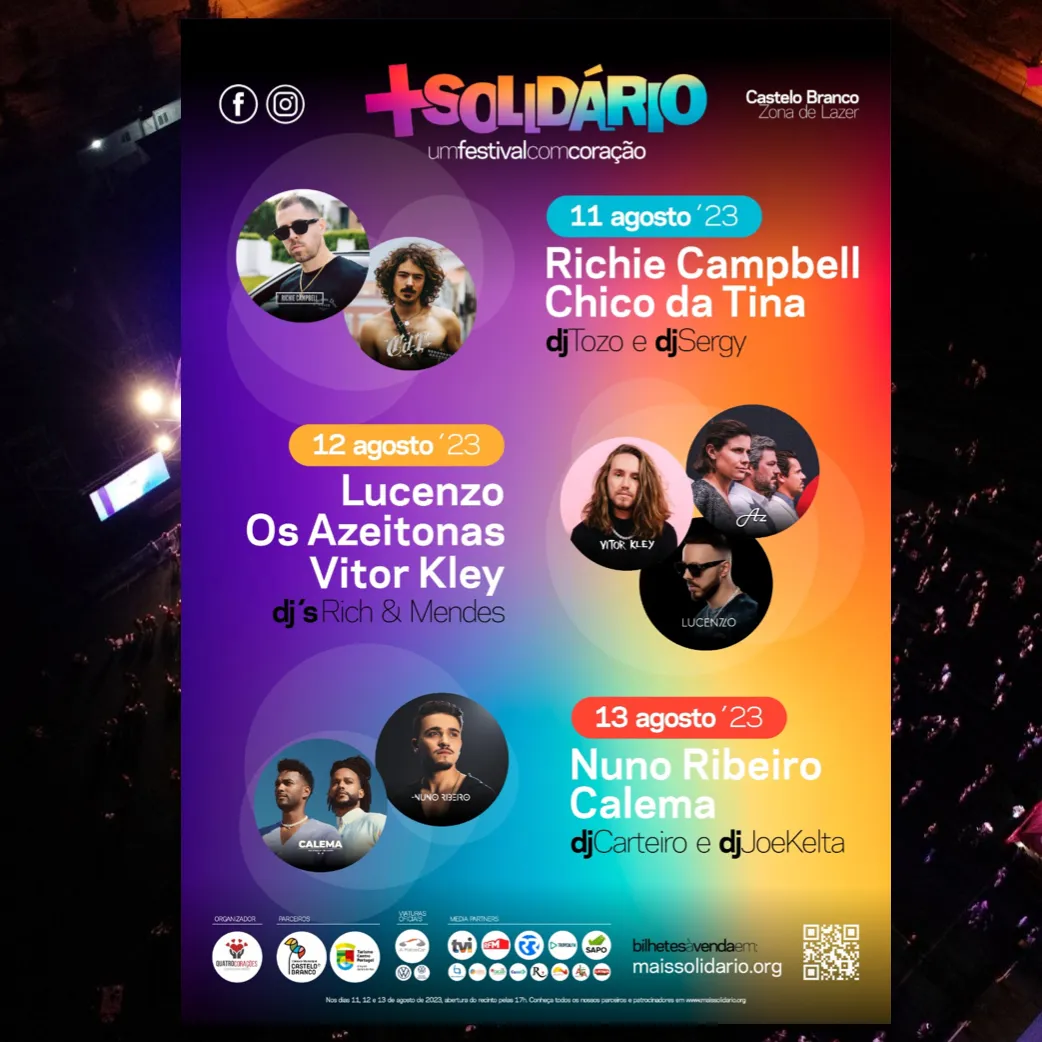 date
the August 11, 2023 at 8:00 p.m
in August 13, 2023 at 11:00 p.m
place
Recreational area in Castelo Branco, Portugal
Richie Campbell, Nuno Ribeiro, Calima… Incredible concerts await you from August 11th to 13th at the Mais Solidário Festival in Portugal.
On August 11, 12 and 13, 2023, you must be in Portugal to attend But Solidário Festival, in which Latina is a co-star! The event will take place in the heart of Castelo Branco's entertainment district.
In this second edition, the festival will bring together many big names in Portuguese music, as well as international names. On August 11, Richie Campbell and Chico Da Tina will attend the concert, ahead of Os Zitonas, Vitor Klee and Lucenzo on August 12. Nuno Ribeiro and Kalima are coming to wrap up the festival on August 13th which promises to be just as attractive!
In addition to these exceptional concerts on the main stage, three days of entertainment await you in the secondary stage with a craft fair and children's entertainment area. No doubt forgetting the large restaurant area where variety and regional products will be on the menu.
The first edition of the Mais Solidário Festival, organized by 4 Corações Association and support the Municipal Council of Castelo Branco, in August 2022. It has brought together more than 25,000 people.
The income from this charitable event is intended exclusively for financing and organizing the activity of the association, to Help those in need. Funds from the previous festival, for example, made it possible for more than 35,000 hot meals to be served to those most in need.
To bring together festivities, sun and solidarity, wait no more! Daily tickets and 3-day tickets are sold at prices starting at €20 and €45.
Credit: © Mais Solidàrio Festival