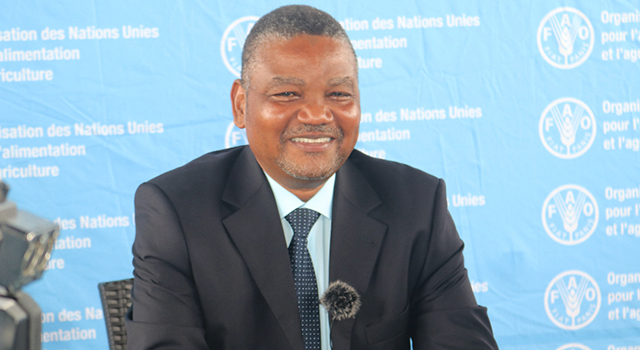 Reaching the end of his tenure, the FAO Sub-Regional Office Coordinator for Central Africa, Helder Mutia, announced his departure on Thursday 29 September after six years in the position.
"The meeting I invited you to will be the last." Passionately Helder Mutia spoke to the press on Thursday in Libreville. The FAO Sub-Regional Coordinator for Central Africa, which is represented in Gabon, Sao Tome and Principe and the Economic Community of Central African States, said he had reached the end of his term.
During his six years in office, the UN official claims that he has done his best to fulfill the task entrusted to him, to the point that, according to him, the portfolio he has had doubled, especially in the past four years. He pointed to a total commitment of nearly $304 million in the form of technical cooperation projects and the contribution of expertise in the form of studies and support consultations in various fields.
If he also says that he appreciates his cooperation with the various governments in the sub-region, Helder Mutia should go solemnly to bid farewell to the Gabonese authorities, in particular the President of the Republic and the Prime Minister.
Who is Helder Mutia?
The person who has held since December 2016 the position of FAO Sub-Regional Office Coordinator for Central Africa, FAO Representative in Gabon and Sao Tome and Principe, and with the Economic Community of Central African States, began his career in 1982 as Co-Manager of poultry projects in the governorates of Gaza and Maputo, Mozambique. In 1989 and 1990, Helder Mattea worked as Head of Technical Department at a public poultry company. In 1994, he became a Member of Parliament and Chairman of the Parliamentary Committee on Agriculture, Rural Development and Public Administration.
In 1997 he was appointed National Director of the Training Center for Agriculture and Rural Development, and from 1998 to 2000 he served as Deputy Minister of Agriculture and Fisheries of Mozambique. In 2000 he was appointed Minister of Agriculture and Rural Development. He held the position until 2005, when he joined the Food and Agriculture Organization as FAO Representative in Nigeria.
From 2010 to 2013, he was appointed FAO Representative in Brazil. From 2013 to November 2016, he was the Chief Contact Officer for the Information Office for Portugal and the Community of Portuguese Speaking Countries (CPLP) in Lisbon, Portugal. Mr. Al Mutee is a writer and author of several publications.
Similar products