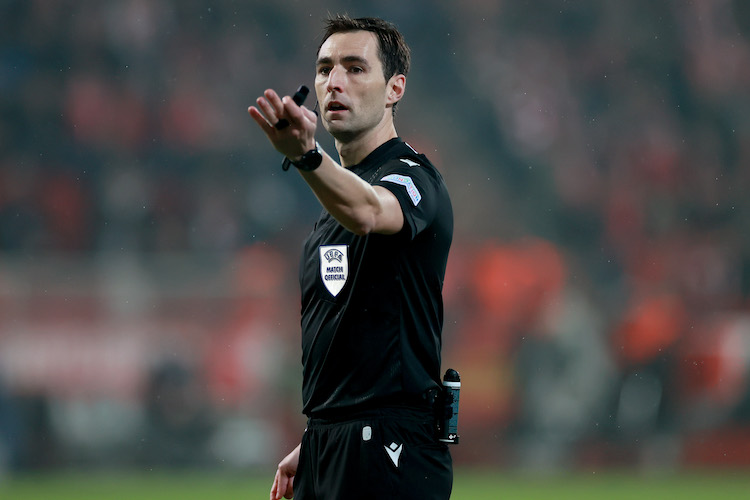 The Basque Technical Referees Committee has appointed Ricardo de Burgos Bengotxea to officiate El Clasico, which will take place on Sunday 19 March (9:00 pm) at the Camp Nou.
For the Basque referee, this will be his third match between Real Madrid and Barcelona. He will be accompanied on VAR by Cesar Soto Grado. This will be De Burgos' third El Clasico. His first match in the Spanish League, after he managed the first leg of the Supercopa final in 2017, which Madrid won 1-3 at Camp Nou, and the Supercopa final last January, when the Catalan team defeated Los Blancos 3-1 in Saudi Arabia.
In his career, de Burgos has refereed Real Madrid 20 times, with a record of 14 wins (70%), three draws (15%) and three defeats (15%). One of them was Madrid's elimination against Cádiz after Cheryshev started: although Real won the match, it was Cádiz who automatically qualified for the next round.
⚖️ ARBITROS | Estos son los colegiados designados para la 26ª jornada en Primera División.

🟨🟥 Complete Designs: https://t.co/OPk23QgheI pic.twitter.com/QkedR5IKbn

-RFEF (rfef) March 16, 2023
Ricardo de Burgos Bengotxea has refereed FC Barcelona 25 times since he's been on the field, recording 20 wins (80%), one draw (4%) and four defeats (16%).
The madridistas will remember that it was he who sent off Cristiano for a double warning: the first for taking off his shirt after scoring and the second for allegedly fake-kick after a challenge from Umtiti. After this procedure, he received a push from the Portuguese player: the latter complained about an obvious foul by the French defender against him as he was about to shoot on goal. Then the Portuguese was banned for five matches: one for sending off and four for pushing the referee.
During this Clasico, he awarded a penalty to the Blaugrana after Luis Suarez simulated contact with Navas, infuriating the Costa Rican goalkeeper. Understandable anger since the pictures confirmed that Uruguay fell in front of Keylor Navas.