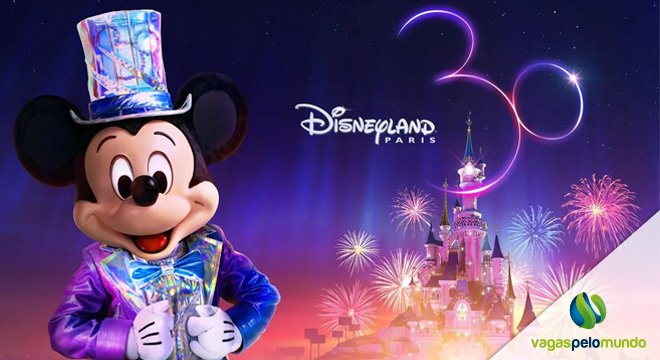 There are dozens of vacancies at Disneyland Paris and the company is recruiting new professionals in France. Learn how to apply!
Disneyland Paris is one of the top attractions in France and is located in Chessy (Seine-et-Marne), 32 kilometers east of the French capital. Every year the place is visited by thousands of people and has become a tourist destination for those who are fans of the characters created by Walt Disney. The success is that Disneyland Paris has vacancies for professionals from different regions, explore the possibilities and see how you can progress.
---
Disneyland Paris . Jobs
There are currently 116 vacancies at Disneyland Paris and the company is selecting professionals from various fields. Disney is looking for a Product Manager, Reservations Consultant, Strategic Planning Analyst, Product UX Designer, Assistant Stage Manager, Operations Technician, Personnel Improvement Analyst, Hairstylist/Makeup Artist, and Production Manager.
In addition to the above jobs, there are also opportunities for Special Effects Technician, Event General Manager, Audio Player Technician, Player Technician, Video Player Technician, Audio Player, SEA Manager, General Maintenance Technician, Sound Designer, Maintenance Project Manager, Marketing Manager, Team Leader Decoration Workshop, Construction Project Manager, Lifeguard, among other vacancies in France.
IT Jobs in Portugal: The company is hiring Brazilians.
professional fields
At Disneyland Paris, you can work in a variety of professional areas, for example: customer service, production and entertainment, business and operations support, innovation, technology and science, consumer goods, marketing and sales, communications, creativity, data analytics, and finance. In terms of catering, a designated professional can work in one of the 55 restaurants and 13 cafes and bars of Disney Paris.
For those who work in the hospitality business, Disneyland Paris offers the opportunity to work in one of the company's seven 2-5 star hotels. Disney Paris communication specialists can develop strategies, campaigns and action plans, in collaboration with commercial teams and in coordination with Disney Parks, Experience and Products and The Walt Disney Company.
Abbott Jobs in Ireland: 1000 jobs in the European country.
About Disney Paris
Disneyland Paris is a tourist complex that opened in 1992. The site contains two theme parks, Disneyland Park and Walt Disney Studios Park, as well as seven hotels and a golf course. With over 20 languages ​​spoken and a staff of over 100 different nationalities, Disney Paris employs over 17,000 representatives. This makes Disneyland Paris the leading single-location employer in France and the leading private employer in Seine-et-Marne.
Jobs at Toshiba: dozens of vacancies.
How do you get a job abroad?
for work in europe You have to prepare, study languages, create a good CV and a very complete LinkedIn profile. It is important that your CV is in English or French (in the case of vacancies at Disneyland Paris) and good, with a good layout and with your most important information (showing your best self).
In addition, learn about the possibilities of obtaining a visa to live in France, or to apply for European citizenship (if you are entitled to it because of your family). Find companies you'd like to work for abroad, their stories, their clients, and the areas they work in, and always stay informed of new job offers posted on the company's website or on LinkedIn.
Working abroad: a step-by-step plan for 2022.
Jobs at Disneyland Paris: How to apply
If you liked the news and would like to apply for one of the job offers at Disneyland Paris, Access to the company's careers and jobs portal. Then select the job offer that matches your profile, read all the requirements and, if you meet them, send your CV (in French or English) directly to the multinational company. Good luck with your application!
Posting on LinkedIn: 5 things you should never post on the platform.
*See also How do you pass a job interview to get a job?Watch the videos on our channel: