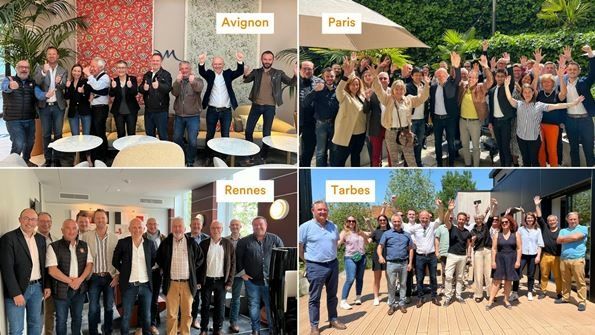 Network of local real estate agencies single side He traveled through France as part of his regional meetings. A great season just ended in Tarbes, at the brand's headquarters.
Beautiful moments shared in the regions
Created in 2008, Côté Particuliers is a national group of more than 120 real estate agencies in France. Proximity, digital, transparency, and retouching fees are the pillars of the brand.
As part of its regional meetings, the brand went to meet business leaders across France. Excellent moments shared by HQ members and real estate agents. After Avignon, Lyon, Paris and Rennes, the brand finished its round of regional meetings in Tarbes, at the company's head office.
It is with great pride for Côté Particuliers to see all network agents attend this meeting. Many exchanges focused on strategic topics such as recruitment, digital tools, sales training, etc.
Join the Côté Particuliers . network
Accessible with a personal contribution of 20,000€ (0€ entry fee), Côté Particuliers has already successfully supported many entrepreneurs from real estate or other fields:
Experienced Non-Real Estate Professionals: Traders, Executives or Engineers from all fields,
Real estate professionals: independent real estate agents, negotiators, real estate agents, property managers.
To ensure a good start, the brand provides its new members with 6-week initial training, including one day of opening assistance, on site.
Patrick Rockert