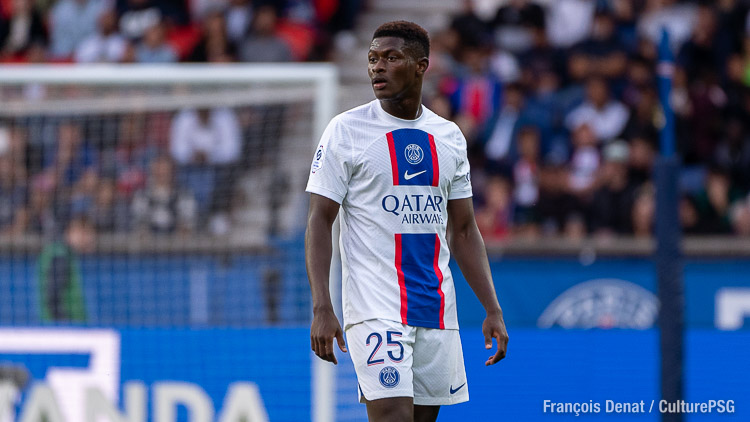 Returning to the team to face Maccabi Haifa, Nuno Mendes remained on the bench. The Portuguese could be revived against Troy before facing Juventus. Christoph Galtier generally has different ways of dealing with the proceeds from an injury.
Nuno Mendes should soon be able to push the promoter back. Victim of a hamstring injury at the start of the month against SL Benfica, the Portuguese team is very close to a comeback. Present again in group training at the Camp des Loges, the 20-year-old Portugal international has already found the group against Maccabi Haifa this week. With a very favorable scenario, Christoph Galtier did not risk who would protect him, who remained on the bench.
But all eyes are already on the match against Juventus Turin next week. With 11 points, Paris Saint-Germain remains in first place in Group H and will compete for the top spot with Benfica in a few days. To face the old lady, the capital club can count on Nuno Mendes to move the left lane. The Ligue 1 clash against Troyes is an important step for the Portuguese's return and Christophe Galtier usually has different ways of dealing with those returning from injury.
Sanches or Kimpembe method?
Most recently, the Parisian technician has recombined other elements in his collection with Renato Sanchez and Presnel Kimpembe, both of whom are also injured. Instead, the former LOSC midfielder resorted to lengthy preparations before returning directly as a starting player against Ajaccio and then against Maccabi Haifa. With a full week of training in his legs, Nuno Mendes can take that route and line up in front of Troyes on Saturday to catch up on pace.
Presnel Kimpembe signed his return to Parc des Princes this week by participating at the end of the match. Perhaps still too short to play a full-intensity match, the Frenchman is entitled to a gradual comeback, after his injury was also longer. At a press conference on Friday at 1 p.m., Christophe Galtier must provide some additional evidence about his intentions towards the former sports resident.