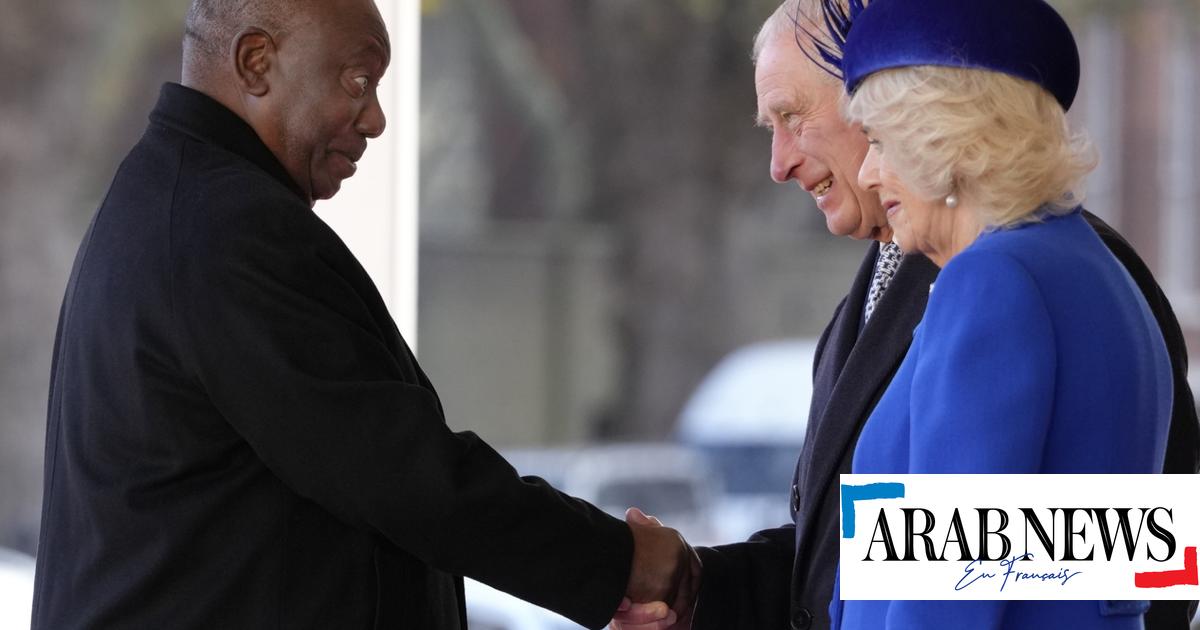 South African President Cyril Ramaphosa on Tuesday urged rich countries to help countries vulnerable to climate change during a state visit to London with great fanfare, King Charles' first since ascending the throne.
In the aftermath of the COP27 conference in Egypt, the South African leader argued to British parliamentarians that the agreement to establish a fund in favor of poor countries should be translated into cold hard cash.
It is not charity, he said, but rather "compensation for the harm done, the damage done to the people of the developing economies as a result of the industrialization of the rich countries."
The South African leader was greeted in London by King and Queen Consort Camilla and Crown Prince William and his wife Kate at a traditional ceremony at the Horse Guards Parade.
Mr. Ramaphosa with Charles III reviewed the guard of honour, before a coach procession took them to Buckingham Palace, and walked across the Mall, the road to there, decorated with British and South African flags.
The two-day state visit is the first by King Charles III since his accession to the throne following the death of Elizabeth II in early September.
Mandela Monument
"The fact that South Africa is the first country that His Majesty the King has hosted (on a state visit) shows our commitment to developing partnerships with Africa," Secretary of State James said on Twitter.
President Ramaphosa admitted before British MPs that corruption is rampant in his country, a practice his opponents accuse him of.
He highlighted his government's efforts to "rebuild" the economy after the pandemic and urged the UK to accept more South African students.
On the occasion of this visit, Cyril Ramaphosa, who came to London in September for the funeral of Elizabeth II, goes to Westminster Abbey, where a monument is being erected to Nelson Mandela, a great friend of the late British monarch.
The president is guest of honor on Tuesday evening at a state banquet at Buckingham Palace.
The South African presidency told AFP that his wife, Tchibo Motsepe, ultimately did not make the trip to London because she was recovering from an eye operation.
Finally, Mr. Ramaphosa will hold an interview with Prime Minister Rishi Sunak on Wednesday, during which the two leaders should privately discuss economic cooperation between their countries.
Downing Street said they would launch the new phase of the existing partnership between Pretoria and London to develop infrastructure in South Africa and sign a new partnership on minerals used in technologies that contribute to combating climate change.
"ambitious projects"
"L'Afrique du Sud is deja le plus important commercial partenaire du Royaume-Uni sur le continent and we have ambiguous projects for stimulant ensemble l'investissement in les infrastructure and the economic croissance", affirmed by the Premier Minister Britannique Rishi Sunak dans statement.
This diplomatic meeting takes place in a delicate context in Cyril Ramaphosa's South Africa, which is facing the anger of the population over the economic situation.
He is also accused, which he denies, of hush-purchasing thieves who dropped off several million in cash at one of his properties in February 2020, raising suspicions of money laundering and corruption.
The findings of the ongoing investigation could open South Africa's parliament to a vote to impeach Mr. Ramaphosa, who denounces a political maneuver to prevent him from running for a second term in 2024.
This official visit is the first to be organized in the United Kingdom since June 2019 when former US President Donald Trump and his wife Melania were received by Queen Elizabeth II.
Former South African President Jacob Zuma arrived on a state visit in 2010.