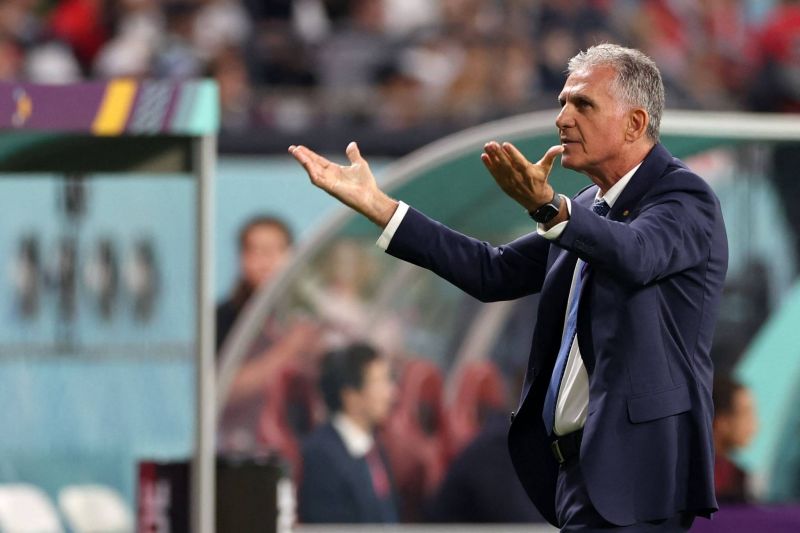 Highly respected by Portugal's Carlos Queiroz during his first term (2011-2019), he sees his return to the "Team Melli" president severely damaged by the ongoing uprising in Iran as he is increasingly challenged by his lack of sympathy for the protesters.
The person dubbed "The Professor" in his country probably did not imagine the pitfalls he would face when he returned to the Persian selection checks just before the start of the 2022 World Cup. Barely ten days after his inauguration, Iran was rocked by an unprecedented protest movement following the death on September 16 of young woman Mohsa Amini, who was arrested by the Islamic Republic's morality police for not respecting the regime's strict dress code.
And while he had coined a strong sympathy capital qualifying the Iranians for the 2014 and 2018 World Cups, the Portuguese quickly squandered it by refraining from any comment on the political situation, unlike on his first visit when he did not hesitate to refer to the country's economic situation. difficulties.
The national team's meeting with ultra-conservative President Ibrahim al-Rai, which was organized shortly before his departure for Qatar, raised unease, amplified by his refusal to provide explicit support to the demonstrators during press interviews organized in Doha.
Asked on November 15 about possible problems and signs of support from the players during the World Cup, Queiroz made it clear that they have "the right to express themselves". But he was immediately surprised when an English journalist asked him about his role as coach of a country that "does not respect women's rights." "How much do you pay me for that question? Don't make me say what I didn't say. Think about what happened in your country in terms of immigration," he said. In the match against England last Monday, Iran players She finally refused to sing the national anthem.
controversial
At the end of Iran's heavy defeat against England (6-2), the Portuguese also made a strong speech against some "Team Melli" supporters, who believe that the players do not support the protesters enough. He said, "Please teachers and moralists, let these boys play football, it's not fair that you bring them to this World Cup and ask them for things that are not their responsibility. If the fans don't want to support their team, stay home, we don't need it."
The technician, 69, was divisive and had a fiery personality. In Iran, there are old glories, such as former Bayern Munich striker Ali Karimi, who abounded in messages against the regime on social media, often criticizing it for ignoring the country's technicians and the local championship, in sometimes imposing changes on the regime. Calendar of national competitions to organize training with foreigners.
In Portugal, when he was a coach (2008-2010, after the first period between 1991 and 1993), he dared to collide with superstar Cristiano Ronaldo after Portugal's poor performance in the 2010 World Cup. He tarnished the image of the 20-year-old earlier, he was The golden generation of Portuguese football has been born.
a trip

Because Queiroz, who did not get good results with the Seleção or Real Madrid (2003-2004), was particularly famous for his talents as a coach. Pioneer of the Portuguese school of coaches coaching on university benches, where we would find Jose Mourinho or Leonardo Jardim, he made a name for himself by giving his country two consecutive titles of U-20 World Champion, in 1989 and 1991.
After his first failure with the Seleção, which failed to qualify for the 1994 World Cup, he coached Sporting CP for a season, before embarking on an international journey that would take him to the United States (New York Metrostars), Japan (Nagoya), United Arab Emirates, South Africa, Colombia and Egypt, with whom he reached the final of the 2021 African Championship. He was also Alex Ferguson's assistant at Manchester United, with whom he says he speaks "regularly". But in Iran, he technically spent the longest. Hence the strong amorous spite that is the subject of today.
Highly respected during his first term (2011-2019), the Portuguese Carlos Queiroz saw his return to the "Team Milli" boss badly damaged by the ongoing uprising in Iran as he is increasingly challenged by his lack of empathy for the protesters. He who is called "the professor" in his country probably did not imagine the pitfalls he would face…