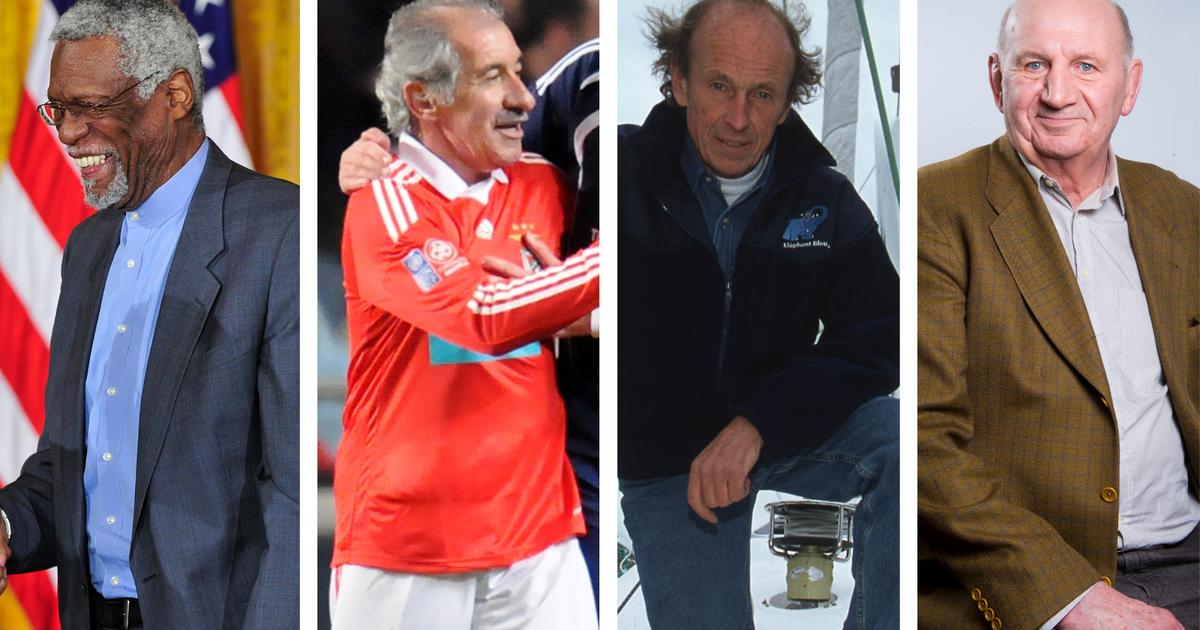 Boston Celtics legend, Portuguese football strategist, first winner of the Route de Rome, former captain of the XV of France, among the major figures in the world of sports who died in 2022.
January
First place: Vadim Khamutskikh, 52, Russian volleyball player, world champion and three-time Olympic medalist.
No. 18: Paco Gento, 88, Spanish player with Real Madrid between 1953 and 1971, the only player in history to win six European Cups.
19: Lucia Harris, 66, the only woman to be officially drafted by an NBA men's team, the New Orleans Jazz in 1977.
19: Peter Robinson, 86, general secretary and then general manager of Liverpool FC from 1965 to 2000, during which time the Reds won 29 titles and cups.
24: Szilveszter CSOLLANY, 51, Hungarian gymnast, double Olympic champion in 2000 in Sydney.
25: Wim Jansen, 75, Dutch footballer, twice World Cup finalist in 1974 and 1978, symbol for Feyenoord Rotterdam where he worked as coach, technical director and advisor after his playing career.
29: Jay LaporteThe 69-year-old former international opening player, was a finalist in the 1987 Rugby World Cup with XV from France.
February
10: Jean-Henri Jaeger, 77, surgeon, had operated on elite soccer.
14: Eduardo Romero, 67, Argentine golfer, has won eight titles on the European circuit and more than 80 titles in South America.
Mars
4: Marian Wisniewski, 85, heroine of the Blues saga at the 1958 World Cup alongside Raymond Kopa and Just Fontaine.
19: Federico Martin Aramburu, 42, the former Argentine rugby player who ran through Biarritz, Perpignan and Dax, was killed after a brawl in Paris.
26: Aimee Mignot, 89, player and then coach of Olympique Lyonnais and coach of the French women's national team.
April
6: Tom Smith, 50, 15th post Scotland & British Lions, ex-CA Brave player.
14: Freddy Rincon, 55, Colombia's soccer superstar, member of the golden generation who qualified for three consecutive World Cups, died in a road accident.
15: Jack Newton, 72, former Australian golf champion.
15: Mike Bossy, 65, NHL champion four years in a row with the New York Islanders from 1980-1983, one of the best scorers in the league.
16: Joachim Streich, 71, former East Germany striker, top scorer in GDR history, nicknamed "Gerd Müller of the East".
22: Guy Lafleur, 70, legend of the Canadian National Hockey League, legendary player of the Montreal Canadiens, winner of five Stanley Cups, nicknamed the "Blond Devil".
24: Dawe de Villiers, 81, former scrum half and Springboks captain.
30: Mino RaiolaThe 54-year-old is a famous player, including Zlatan Ibrahimovic, Paul Pogba and Erling Haaland.
mayo
9: Adreian PAYNE, 31, American basketball player, NBA and collegiate basketball player, killed by firearm.
11: Bob Lanier, 73, former Detroit Pistons center, Hall of Famer, eight-time All-Star Game selection.
18: Fawzi El Mansouri, 66, Algerian former professional soccer player.
27: Jean Carrier, 92, third line for the French rugby team.
29: Lester PIGGOTT, 86, considered one of the greatest jockeys of all time, nicknamed "Long Fellow," winner of 4,493 races, including nine editions of the Epsom Derby.
June
8: Julio Jimenez, 87, cycling legend, three-time top climber in the Tour de France and the Vuelta.
12: Bernd Branch, 77, former captain of the East German national soccer team, 1976 Olympic champion in Montreal.
12: Phil Bennett, 73, fly-half and captain of the Wales national team in the 1970s.
24: Alain Plantiful, 79, former second line of the 15th edition of France and Agen, winner of the 1968 Grand Slam tournament.
28: Jean-Hervé Stevenart, 67, famous French triple jump coach.
July
2: Andy Goram, 58, goalkeeper, Glasgow Rangers legend.
13: Marcel Remy, 99, mountaineer, dean of his sport in Switzerland and one of the oldest active climbers in the world.
21: Uwe SEELER85, one of the greatest figures in post-war German football.
30: Jean Bobet, 92, French cyclist, brother of Louison Bobet, winner of the 1955 Paris-Nice Tour.
31: Bill Russell88, American basketball legend, 11-time NBA champion with the Boston Celtics including two titles as a player and coach, Olympic gold medalist in 1956.
August
10:Fernando ChalanaThe 63-year-old is a midfielder for Benfica Lisbon, the Girondins de Bordeaux and the Portugal national team.
22: Tom Weiskopf, 79, American golfer, winner of the 1973 British Open.
25: Hermann van Springel, 79, Belgian cyclist, seven-time winner of the Bordeaux-Paris Classic, champion of Belgium in 1971.
September
2: Ernie Shivers, 78, American boxer in the heavyweight category, defeated by Muhammad Ali and then by Larry Holmes for the title of world champion.
15: Eddie Butler, 65, former captain of the Wales XV, player of the British Lions and Barbarians.
26: Jean-René Tomlin, 80, former head of the professional department at FC Nantes from 1996 to 1998.
30: Luis Quinones, 25, Colombian boxer victim of cranial trauma during a fight.
October
1: Antonio Inoki, 79, famous Japanese wrestler-turned-Member of Parliament.
4: Aida BA, 39, former third line XV from France.
6: Phil Read, 83, motorcycle racer, seven-time world champion including twice in Class One in 1973 and 1974.
22: Japan international striker Masato Kudo, 32, dies of complications following brain surgery.
26: Mike Birch90, Canadian sailor, first winner of the Rom Road in 1978.
November
3: Benoit Duga80, former second-rower and ex-captain of the XV in France, winner of the first French Grand Slam tournaments, nicknamed "Grand Ferré".
11: Henry Anglade89, French cyclist, runner-up in the 1959 Tour de France, nicknamed "Napoleon".
16: Johan Hamel, 42, referee who has officiated nearly 250 professional matches, including 136 in Ligue 1 as head referee.
17: Alexander Gorshkov, 76, first Olympic champion in figure skating, president of the Russian Figure Skating Federation.
26: Fernando Gomez, 66, Portuguese footballer, double winner of the Golden Boot in the 1980s and all-time top scorer for FC Porto.
26: Dodi Weir, 52, former international rugby player for Scotland in the 1990s.
30: David Ripplin51, triple winner of Flèche Wallonne and 2008 Olympic vice-champion, fell with a truck.
Dec
4: Patrick Tambay73, French Formula 1 driver in the 1970s and 1980s with McLaren and Ferrari with two victories.
5: Nick Bollettieri, 91, former tennis coach who notably trained Andre Agassi and Maria Sharapova.
10: Walter Benito50, is a former professional French cyclist who has competed in seven Tours de France.