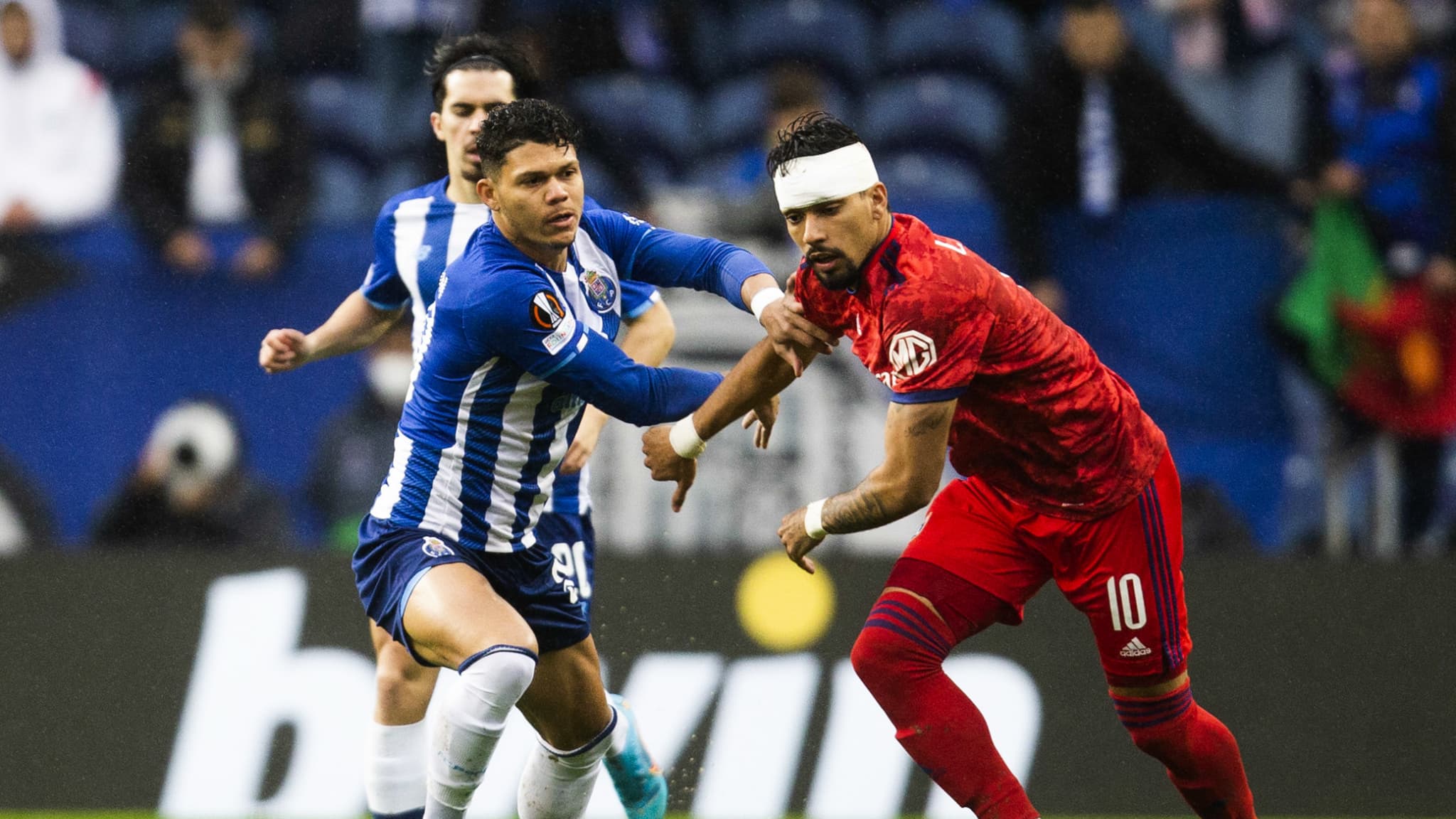 Heated between the seats, Conceicao deplores the insults from Leon
The end of the round of 16 of the European League between Olympique Lyonnais and FC Porto (1-1) was marked by some quarrels between the staff of the two teams. Portuguese coach Sergio Conceicao even mentioned the insults from Lyon.
"I saw someone from the coaching staff in Lyon speaking Portuguese and insulting the players and workers in Porto," the former Nantes coach announced through the media. Portuguese. According to him, he could be the coach of the goalkeeper (Remy Vercotree). Sergio Conceicao added that he did not know more because he then left to join the dressing room.
>> All information on the tensions at the end of OL-Porto
Dubois sends "shhh" to Lyon supporters after Dembele's goal
Crucial pass in Lyon's goal against FC Porto on Thursday night (1-1 win, 1-0 over OL in the first leg), Leo Dubois looked at the crowd by putting his finger in his mouth. A way to send a message to his supporters who strongly criticize him.
>> Dubois' message to his supporters can be found here
Big for OL in the quarter-finals?
Olympique Lyonnais, qualified for the European League quarter-finals, will know who their opponent is on Friday (from 1pm, on RMC Sport).
Potential OL opponents:
Atalanta Bergamo (ITA)
Glasgow Rangers (ECO)
Barcelona (Spain)
Braga (Bor)
Eintracht Frankfurt (Germany)
Leipzig (Germany)
West Ham (England)
it's over ! Lyon gets rid of Porto and qualifies for the quarter-finals!
It's over at Groupama! Lyon qualified brilliantly for the quarter-finals of the European League after drawing 1-1 with Porto (2-1 on aggregate). It's a true OL performance that shines in European competitions! The adventure continues for the men of Peter Boss who may face Barcelona or Atalanta.
Porto misses the match ball
Free kick for Porto and Pepe turns the ball to Vetnia, who misses completely in front of Lopez! It's a pass for Taremi but he makes a mistake and throws it at Lopez! Match point was.
4 minutes left to play
There will be four minutes of extra time in this game! Leon will have to hold out a little longer!
Kadeware injured his leg
Leon winger Tino Cadiwere complained about his foot but his partners put him back in the grass!
Yellow card for Evanelson
Evanelson pushes Ndombélé to the billboards and logically receives a yellow card shortly after entering the game!
NDOMBÉLÉ REGALE, fantastic!
Tanguy Ndombélé gradually regains an exceptional level and leads the roulette wheel that allows the work to continue! Gave it to Paquita who is trying to return it to him but it has been answered!
Pep wasn't far from a great goal!
A dangerous free kick for Porto and Fabio Vieira! Puts in the box but Thiago Mendes puts it back. Bibi tries a shot and turns it Kakeret with difficulty! What a gesture!
Thiago Mendes is solid
Not in his position, Thiago Mendes does the job as a central joint and pushes the Portuguese attackers back on every one of his tackles!
Change in Porto
Double change by Sergio Conceicao! Mehdi Tarimi and Evanelson enter the play in place of Galino and Martinez.
What a job from Paquita!
But what a player this Paquita is! Pepe plays quickly and finds himself with his back to the goal! Gorgeous rake and pass for Orr and his partner don't fool Costa!
Lyonna is fine
At the moment, the defensive team of Lyon does not crack to the attack of the Portuguese! Paquita is struggling to make the effort!
Toko Ekambi seizes his chance
Not attacking near the surface, Karl Toko Ekambi doesn't ask questions and tries a low hit! Diego Costa calmly captures.
Here are the changes
Kadiwiri and Orr playing in the place of Roman Fever and Moussa Dembele! These are the first two changes for Peter Boss!
Another 30 minutes to play
Peter Boss will be making some changes to try and rebalance the discussions at this meeting!
leon choked
Lyon begins to suffer from various Portuguese attacks without regaining the ball! It's a bad time to pass but Lukeba has brought back all the positions!
The first change to Porto
Emergency exit from Costa, who hit his leg! He was replaced in a short time by Joao Mario.
Caqueret lays her law
The head of the Lyon region is indeed Maxence Caqueret who recovers the most balls and lifts the ball perfectly!
Paquita is trying the impossible
Diego Costa is a little bit away from his goal and clears the ball poorly! Back to Paqueta who tries a horizontal shot but it's on top!
Half the time!
It's the hangout at Groupama Stadium! Lyon and Porto leave with a score of 1-1, but this tie is enough for OL to slip into the quarter-finals. Well fired by an early goal from DEmbélé, he joined Gones in a light Pepê shot under the bar! Lyon at it!
Leon finds the ball
Lyon are planning very well at the end of the first period! There will be no extra time!
Not much happens anymore
Both teams were hitting hard for a few minutes without getting any chances!
Lukeba intervenes perfectly
Another stream of Galeano perfectly focused towards Tony Martinez! Lukiba throws himself and sends the ball to a corner!
Leon is no longer so dangerous
A good free kick to follow up on Lyon and Roman Vivre! He puts the Lyon winger in the penalty area for Paqueta, who completely missed.
Leon is still in the game
Despite this surprising draw from Porto, Lyon are still provisionally qualified for the quarter-finals (2-1 on aggregate)!
What a gesture from PEPÊ!
The match resumed with a great goal from Porto! Cross Fabio Vieira for a shot at the entrance to Pepê's rooftop that comes to rest under the bar! 1 to 1, everything needs to be redone for OL!
Caqueret with power
Galeno has fire in his legs and is trying to do the exteriors! Caqueret gets up and tackles the Portuguese player perfectly!
Dembele's head!
Fabulous Caqueret opening for Dubois who skips on first intention! Dembélé rises very high but does not lower his head high enough, he is flying!
Yellow card for Eustaquio!
Intervention too late Eustaquio who actually cut Romain Faivre! It's a straight yellow card!
OL in very favorable concessions
This goal will free up Lyonnais who are already on their way to qualifying for the quarter-finals! This is a two-pronged advance on the whole for OL!
Pardon Dembele!
They are hot in this Lyon with the opening match of Moussa Dembele! Off the right foot of Dubois who perfectly tosses Dembélé and concludes with the right foot! 1 to 0 leon!
Welcome back from Thiago Mendes
Fabio Vieira goes deep but Thiago Mendes perfectly intervenes!
out of rhythm
This start to the match lacks rhythm for a few minutes! Leon is worried and is in the right place!
Pfeiffer's Missed Opportunity
First excess of Paqueta who perfectly mediates behind Faivre who falters! The previous Brestois is a bit too short!
The first Portuguese acceleration
Watch out for the Porto players who are already starting to play with Pepê's height! It will be a corner of the Portuguese!
Kick-off for this LYON-PORTO!
Let's go on this return trip between Leon and Porto! The winner of the first leg, OL has the cards on hand to join the Europa League quarter-finals!
And configure Porto!
D. Costa – Zaidu, Pepe (c), Mbemba, B. Costa – Grujic, Eustaquio – Galeno, Vieira, Pepê – Martinez
OL configuration!
Lopez-Dubois (c), Mendes, Lukiba, Emerson-Cakeret, Ndombele-Fever, Paqueta, Toko Ekambi-Dembele
Good evening everyone
Welcome to RMC Sport to follow live commentary on OL-FC Porto's UEFA Europa League Round of 16 second leg match. The match will take place at 9 pm at Groupama Stadium. As a reminder, Lyon players won 1-0 in the first leg in Portugal.