Discovered dead in December 2021, the results of analysis on a sunfish stranded in the Azores reveal its secrets: It is the largest bony fish in the world.
After nearly a year of analysis and dissection, researchers from the Society of Atlantic Naturalists and the University of the Azores have unanimously agreed that it is the largest bony fish in the world. The data was recently published in the Journal of Fish Biology. The author of the article, Jose Nuno Gomez-Pereira, said the animal died due to a bruise on the front of its body.


Atlanticnaturalist.org
As a reminder, the animal was found dead near Faial Island in Portugal in December 2021. According to Pereira:
" It's a sign that the oceans are still healthy enough to support the heaviest species in existence, but a warning to more conservation in terms of pollution and boat traffic near ocean islands. »
Today, there are approximately 29,000 species of bony fish in the world, including anchovies, herring, and sardines. This discovery breaks the previous record held in 1996, which was held by another giant sunfish weighing 2300 kg discovered in Japan.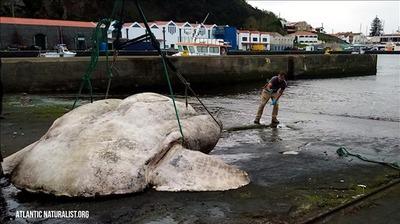 Japan